Sales Have Ended
Ticket sales have ended
We look forward to seeing you.
Sales Have Ended
Ticket sales have ended
We look forward to seeing you.
Hear from a world class author, followed by a peer roundtable.
About this event
How business can save the world.

Engage with Rebecca, reflect with my guests and get traction on leading edge ideas.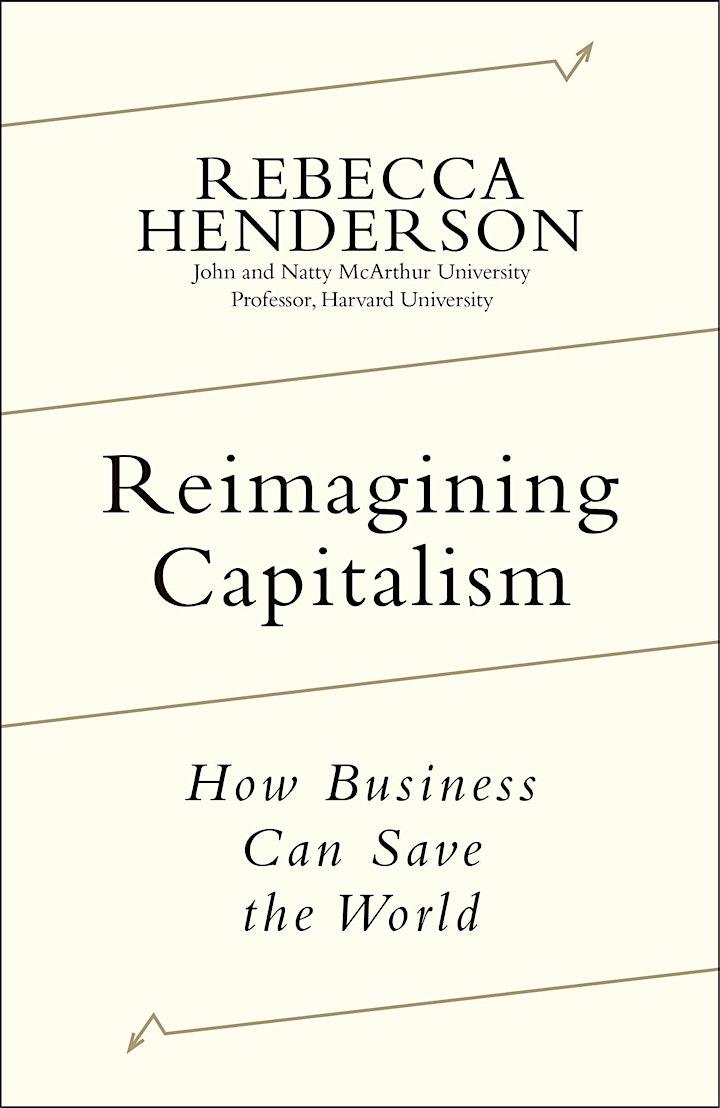 SHORTLISTED FOR FT & MCKINSEY BUSINESS BOOK OF THE YEAR 2020
Free market capitalism is one of humanity's greatest inventions and the greatest source of prosperity the world has ever seen. At the same time, its single-minded pursuit of profit has led to rampant inequality and the looming threat of climate catastrophe - and now threatens to destroy the society on which it depends.
Rebecca Henderson, John and Natty McArthur University Professor at Harvard University, argues that business can simultaneously make a positive impact on the world by confronting the realities of our environmental crisis and the need to address social and economic inequality, while also delivering the sustained economic growth that brings prosperity and wellbeing to society as a whole.
Drawing on lessons from companies from around the world who are already making a positive difference, Reimagining Capitalism shows that this new approach is not only a moral imperative but also an extraordinary opportunity to drive growth and innovation in an increasingly competitive world. And, perhaps most critically, she suggests that it has the potential to balance the power of the market with the power of democratic, accountable government and strong civil society - the only long term solution to the problems that we face.
"This powerful and readable book is a clarion call for reimagining and remaking capitalism. We can have a more moral and more innovative capitalism. There is hope!" -Daron Acemoglu, co-author of Why Nations Fail
About Rebecca Henderson
Rebecca Henderson is the John and Natty McArthur University Professor at Harvard University and teaches the Reimagining Capitalism course at Harvard Business School. She is a research fellow at the National Bureau of Economic Research and is a member of the British Academy and of the American Academy of Arts and Sciences. Professor Henderson is an advisor to some of the world's leading companies and a board member of Amgen and IDEXX Laboratories. The Financial Times recently named her a 'director of the year.'
About Alan Furley, your Host
Alan is a director and owner at ISL Recruitment, a business that helps tech startups and scaleups grow through talent planning and finding great people.
He supports seed and venture accelerators, providing expertise on people and teams to companies looking to raise investment and grow. in 2021 this has included Accelerator Academy (seed), ScaleUp Accelerator (series A) & Digital Catapult (cyber, immersive, AI).
About Matthew Stadlen, our Moderator
Matthew Stadlen is an English radio and television presenter, producer, writer and author. He has for four years hosted a twice-weekly four hour show on LBC, reaching an audience of approaching 200,000 listeners. Before that, he was a presenter, producer and director at the BBC where he was the face of the 'Five Minutes With' interview series as well as 29 half hour 'On The Road With' documentaries. Matthew writes for The Telegraph, The Spectator, The Sunday Times and Radio Times, is a regular guest on Jeremy Vine on 5 and on Sky News. Cambridge educated with a first class degree, Matthew was brought up in Notting Hill, where he still lives, but he gets out to the country whenever he can to pursue his twin passions of photography and birdwatching. His book, How To See Birds, has sold out and has been reprinted. He has worked abroad and been to 84 countries.
On the day
You'll hear Rebecca interviewed, listening to her share key messages from her book. You'll have a chance to ask questions of Rebecca and chat with all the other guests.
Then we'll switch to a more intimate roundtable, where you can talk to other startup and scaleup leaders about what you've heard and anything else on your mind.
Date and time
Location
Refund policy