Online session with artists Addictive TV, creators of Orchestra of Samples and group known for their innovative use of audio/video sampling.
About this event
Online Q&A session with ethno-sampling adventurers Addictive TV, who will give an insight into how they created Ribab Jam, the new track from their on-going project Orchestra of Samples. The artists compose new music by sampling hundreds of musicians they've recorded and filmed around the world, improvising on all manner of instruments - it's currently nearly 300 musicians in over 30 countries.
From the heart of the Moroccan desert, Addictive TV shine the light on a little-known but important instrument from Morocco's Amazigh culture (pronounced 'Ama - ziah', and formally known as 'Berber') - the Ribab - a traditional, often bejewelled single-stringed instrument played with a bow.
With 11 musicians sampled for Ribab Jam, this track contains more instruments than any other in their whole project, it's a rich and rare sonic fusion: Moroccan ribab meets the African kalimba, Dominican percussion, Indian vocals, even a monk's bell from Bhutan and more.
During the Zoom session, artist Graham Daniels and his creative partners will explain how they made the piece, from recording to composing with samples. From Morocco to Colombia, musicians who took part in the recordings will also join the discussion.
Ribab Jam is available on streaming platforms from June 11th. More info: https://www.orchestraofsamples.com/releases/ribab-jam/
*** On Thursday 24th June, the artists are also hosting a free online remix workshop remixing Ribab Jam using Garageband. More info HERE.
Supported by Arts Council England.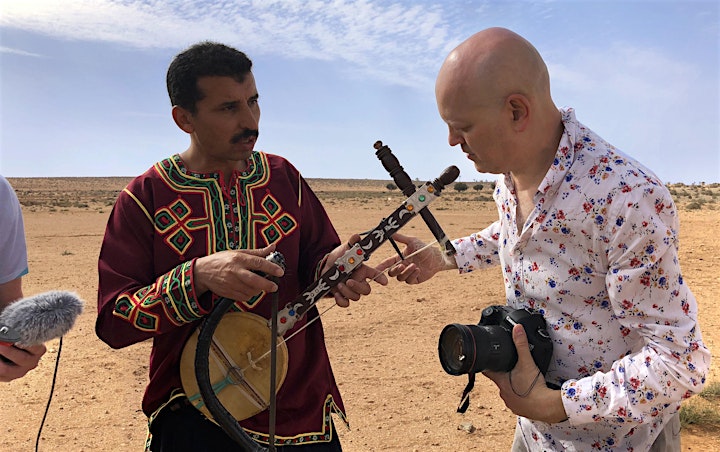 A vast undertaking, Orchestra of Samples grew out of Addictive TV's much-lauded live audiovisual shows, and whilst touring internationally in pre-Covid times, the project became a vital part of their travels. They've performed the project worldwide at festivals and venues including WOMAD in the UK, RomaEurope in Italy, the Pompidou Centre in Paris and Mexico City's Centro Nacional de las Artes. Often performing the show with guests, artists have included world famous percussionist Dame Evelyn Glennie, jazz trombonist extraordinaire Dennis Rollins MBE and sitar virtuoso Baluji Shrivastav OBE.
More info here: www.orchestraofsamples.com - and below is an extract from a performance during the pandemic in 2020 at online only festival Newham Unlocked.