Cwrdd â'r Cyllidwr: Cronfa Cydlyniant Cymunedol Canolbarth a De-orllewin Cymru
About this event
The Mid and South West Wales Community Cohesion Team have small grant funding available (up to £2000) to develop projects which help bring communities together safely (online or in person if appropriate), ensuring groups and premises can access initiatives that promote cohesive communities.
Community cohesion is what must happen to ensure different groups of people get on well together in the area. A cohesive community is an area where those from different backgrounds share positive relationships, feel safe in the neighbourhood and have a sense of mutual respect and shared values.
At this Meet the funder event find out about what community cohesion is, learn about the background to the fund and what projects can be supported. Following this there will be a Q&A session with the Community Cohesion team.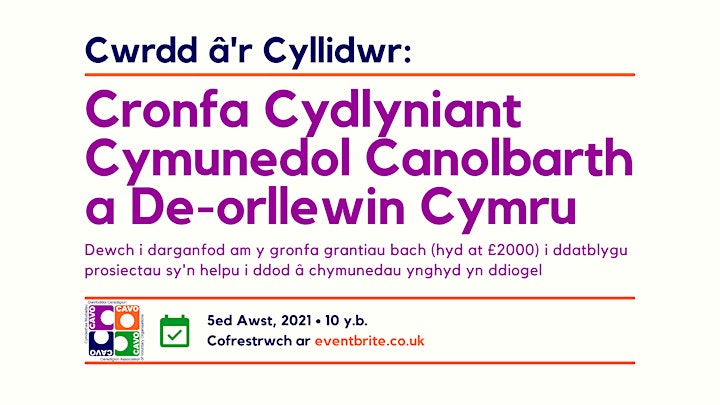 Mae gan Dîm Cydlyniant Cymunedol Canolbarth a De-orllewin Cymru gronfa grantiau bach ar gael (hyd at £2000) i ddatblygu prosiectau sy'n helpu i ddod â chymunedau ynghyd yn ddiogel (ar-lein neu'n bersonol os yw'n briodol), gan sicrhau bod grwpiau a safleoedd yn gallu cyrchu mentrau sy'n hyrwyddo cymunedau cydlynus.
Cydlyniant cymunedol yw'r hyn sy'n rhaid digwydd i sicrhau bod gwahanol grwpiau o bobl yn cyd-dynnu'n dda yn yr ardal. Cymuned gydlynus yw ardal lle mae pobl o wahanol gefndiroedd yn rhannu perthnasoedd cadarnhaol, yn teimlo'n ddiogel yn y gymdogaeth, ac yn parchu ei gilydd a rhannu'r un gwerthoedd.
Yn y digwyddiad Cwrdd â'r Cyllidwr hwn, darganfyddwch beth yw cydlyniant cymunedol, dysgwch am gefndir y gronfa a pha brosiectau y gellir eu cefnogi. I ddilyn, bydd sesiwn Holi ac Ateb gyda'r tîm Cydlyniant Cymunedol.
Organiser of Meet the Funder: Mid and South West Wales Community Cohesion Fund