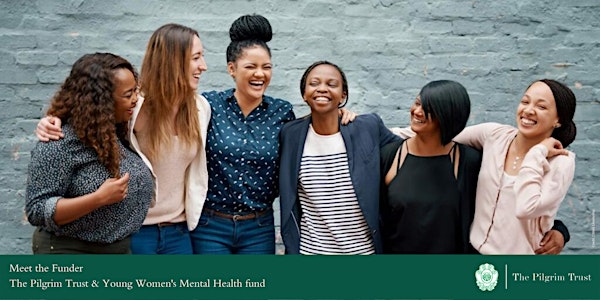 Meet the Funder. The Pilgrim Trust & Young Women's Mental Health fund
The Pilgrim Trust's Young Women's Mental Health programme is opening for its 2nd year! Join us to learn more about the fund and our work.
About this event
We set up the Young Women's Mental Health programme to help improve the mental health of women aged 16-25 in the UK. We've committed £5 million in funding over five years (2021-2026). Our grants go to organisations that increase young women's access to high quality, age and gender specific mental health services.
In this free, online event, we invite you to meet our team, learn more about the Young Women's Mental Health programme and our work. If you are interested in the Young Women's programme but aren't sure of your eligibility or suitability, this event is for you.
You'll hear from our Grants Manager, Sonja Forbes, and Director, Sue Bowers, followed by a Q&A. The event will also include practical examples from our first year of funding and how the application process works.
Grants of £60,000 to £90,000 spread across three years are available. Charities need to be working in Northern Ireland or the North East or North West of England to be eligible.
We look forward to seeing you there!