Meet the Mentor - John Mushriqui, Angel Investor & Mentor
Description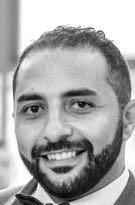 John is a Venture Builder. Problem Solver. Accomplished entrepreneurial executive with international experience in launching, building, and scaling startups.. He started his first startup in the Aerospace Defense Sector where he founded a manufacturer of military, law enforcement and personal safety solution.
He then went on to the consulting sector and founded an innovation consulting practice, helping corporates develop disrupting ventures products and services. He then went on to the consumer technology sector and founded a two-sided marketplace to connect users with service professionals. Finally John is spending his time mentoring founders with Microsoft, Techstars, and Startupbootcamp.
Recently John was appointed Entrepreneur in Residence at the Amazon Alexa Voice Tech accelerator which launched in July 2018.
We will be taking photographs at the event for social media and promotional purposes. Please let us know if you do not want to be included.