"Meet the Stemettes" in Cambridge - March 2014

Saturday, 29 March 2014 from 14:00 to 17:00 (GMT)
Ticket Information
This event is invite-only
Event Details

What? - We'll be holding a panel event, complete with Q&A, networking (games) and nibbles. The panel will feature 8 people from a diverse set of Science, Technology,Engineering and Maths (STEM) careers.
Where? - We'll be at Microsoft's Research offices in Cambridge, near the main stations. Full address is Microsoft Research Cambridge, 21 Station Road, Cambridge CB1 2FB.
When? - We'll be there from 2.00pm for a 2.20pm start and hope to be finished by 5pm latest.
There are amazing women in the UK's Science, Technology, Engineering and Maths (STEM) fields, but a lack of females rising to take their place in STEM. This diverse panel will be sharing their unusual STEM career paths and giving some top tips to current STEM students considering their options after university.  The event is open to all and promises to provide a fantastic opportunity to meet and network with real STEM professionals and discover new opportunities, all over light refreshments in a relaxed atmosphere.
This event is sponsored and hosted by Microsoft Research. It is being co-run by Cambridge AWISE, Cam Women in Tech and Stemettes.
We'll be hearing from:
Jennifer Murray a Behavioural Neuroscientist at the University of Cambridge studying drug addiction. She is also a Fellow in Psychology at Murray Edwards College.
Rose Spear a Biomedical Engineer at Cambridge University, working on the problem of loosening hip replacement implants. She is also chair of the British Science Association's Cambridgeshire branch.
Anne Clarke a Business Analyst for the Bloomsbury Library Management Group, implementing a new open source library system across a consortium of libraries
Tanya Morton is an Application Engineering Manager at MathWorks, helping customers apply mathematical software to solve a wide range of technical problems in science, engineering and finance
Sara-Jane Dunn is a postdoctoral researcher at Microsoft Research Cambridge. Her work is focused on the theory of how and why cells perform computation and unlocking the mysteries of decision-making in stem cells
Nicole Fraser is an chartered Machanical Engineer at Johnson Matthey, managing the vehicle test facilities in the Emissions Control Technologies division
Helen Scales is a science writer and documentary maker who, true to her name, specialises in the undersea realm and all things fishy. Her first book explores the extraordinary lives of seahorses and you can hear her on BBC radio talking about everything from shark brains to living underwater.

One mystery man working in STEM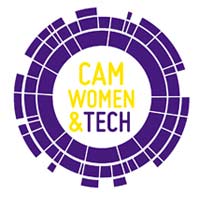 ---
Arriving by train:
Trains arrive into Cambridge Station, Station Rd from most locations in the UK. They leave from Kings Cross, London. The Microsoft Research Office is located on Station Rd also.
---
Arriving by car & parking:
There are
26 car parking spaces
available on-site at the side of the building, and a further six over the road.
Mill Road
is the best residential street to look for parking otherwise, but you may have quite a walk back to the office. The
nearest car parks
are located at Cambridge Station (2minute walk) and the Leisure Complex (5/10 minute walk).
Park & Ride
is also a good option, and you can find the nearest car park and bus stop here: http://www.parkandride.net/cambridge/facilities/cambridge_interactive_map.html
---
About the Stemettes - We run panel events, hackathons and exhibitions for girls from 9 years old right up to female university students. We'd like to show them amazing women in Science, Technology, Engineering and Mathematics careers. Some of whom might wear heels, makeup and carry handbags just like any other woman!
Twitter - http://twitter.com/stemettes
Facebook - http://facebook.com/stemettes
Website - http://stemettes.org
Google+ - http://gplus.to/stemettes
Do you have questions about "Meet the Stemettes" in Cambridge - March 2014?
Contact Stemettes
Organiser
We're showing that Girls do Science, Technology, Engineering & Maths (STEM) too via a series of panel events, hackathons and exhibitions.