Description
Need funding, but don't know what to choose: debt, grant or equity? Still confused about all those terms and wondering what are your options? So, make your way to the next BFS Workshop where you'll be able to learn 'When should you prefer debt funding and what are your alternatives to bank loans?'
There are many alternative debt funding streams and the ones we aim to demonstrate you, can help a vast majority of SMEs - from a small retail shop to a venture with a global trade, and sometimes these loans take a completely different form from what you can imagine thinking of a loan. Trade Finance, Cash Advance, Overdrafts, Invoice Finance, Asset-Based Lending, Bridging Loans, Flexible Funding, and Peer-to-peer Lending are just a few examples of debt funding, and most of them will be revealed to you at this Learning & Networking event.
You'll be able to learn:
- Why and when should you choose debt over equity;
- What are the various debt options available to you;
- How to choose the right funder and secure a loan on the best terms;
- What kind of debt funding fits best your business and current stage;
- How to apply for funding, and what lenders want to find in the application to ensure you qualify.
You'll meet some of the best and forward thinking funders, who provide finance on reasonable and affordable terms. These companies are just like you, also fast-growing SMEs driven by ambitious entrepreneurs who aim to help other business owners to succeed and grow!
Already confirmed companies:
MarketInvoice is the VC-backed peer-to-peer fintech platform that's building the modern backbone of the economy. Imagine you're a young company who's just won a major contract but your client wants to pay in 90 days terms whilst you need to pay your staff and suppliers upfront. That's where MI steps in. They already lend over £30 million/month to small businesses and on track to double that within the next year. It's a £100bn/year market which is dominated by legacy lenders and banks with complex processes and shady practices. MI brings transparency and simplicity to the market.
FundingKnight is a crowdlending company enabling people to invest directly in handpicked British businesses. Helping UK companies get the funding they need to grow and facilitating investment in alternative finance for everyone. FundingKnight offers fast, flexible and competitive business loans, Property Bridging finance and Green Energy project funding up to £1million to UK companies looking to grow. Each loan goes through an auction process wherein investors bid to invest and this process actively lowers the final interest rate payable.
Liberis provide small business owners access to finance where traditional routes are either unavailable or put the business under stress when repaying. Repayments are directly linked to the credit or debit card takings of the business' customers. This repayment model, where a small pre-agreed percentage of every card transaction is automatically taken, is designed mirroring daily business performance, doing away with fixed monthly repayments! They've helped over 3,000 small businesses across the UK, providing over £130m in funding and have received recent investment from the UK Government owned, British Business Bank.
Borro is an online platform for secured loans that targets affluent consumers who seek credit at scales not available from traditional lenders. Over 75% of the loans are completed within 24 hours from valuation.
Borro has originated $250m+ since 2011 and was ranked 8th in KPMG's 50 Best Fintech innovators globally in 2014. Borro provides finance for a broad range of assets including property, fine art, jewellery, watches, classic cars and fine wine, and other valuables. Loans are available up to $5 million in the US, and up to £5 million in the UK. Clients use Borro's loans for various reasons, examples include funding investments or meeting unexpected cash needs. They have offices in London, New York and Los Angeles.
Speakers:
David Spickett, Operations and Sales Director at Liberis
David is passionate about customer experience and has joined Liberis to find new ways of making customers lives easier. His role is focussed on listening to customers and using their feedback to continuously improve the Liberis product, processes and technology; whilst driving new customer acquisition to support Liberis' growth.
Following 6 years as a management consultant helping other businesses achieve their goals David moved to Life Style Services Group (LSG) a subsidiary of Phones 4U to help develop and grow their lifestyle insurance business. David was integral in helping LSG grow to over 2000 employees in just a few years, winning new business, integrating new partners and building a best in class operations and sales teams. Having experienced the challenges facing small and medium sizes business wanting to grow, David has developed a real passion for SME funding to help businesses achieve their potential.
James Bryant, Partnerships Manager at MarketInvoice

James' role is to drive business development through the establishment of commercial and strategic partnerships within various channels. These include financial intermediaries, banks, accountancy firms, private equity and venture capital. MI is an established leader in the UK's burgeoning fin-tech space, and have already facilitated more than £900m worth of funding to UK SMEs. James' work is to ensure this number is constantly growing through enabling more businesses to benefit from MI services.
Jasper Ehrhardt, Managing Director at FundingKnight
Jasper Ehrhardt is Managing Director at FundingKnight. One of Jasper's key interests is the ability for technology and organisational flexibility to drive change. It is Jasper's goal for FundingKnight to become one of the leaders of the new financial landscape. Jasper is responsible for the operational development of the company as well as its strategic vision and ensuring it is a leader in a fast-moving and competitive environment.
With many years of experience in financial technology, Jasper has a track record of creating organisational success. His passion is in building teams that allow individuals to express their talents as well as supporting one another to achieve greater success.
Paul Jochen Ebert, SPV Strategy and Product at Borro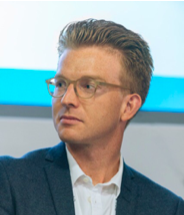 Paul is responsible for strategy and product at Borro. Prior to Borro, he helped start and rapidly grow Zencap (acquired by Funding Circle in 2015), a marketplace focusing on small business lending. As Global Head of Sales, Paul led all efforts relating to borrower and partner acquisition. Before entering the fin-tech space, he worked in Investment Banking for Credit Suisse in London. Paul also holds an MBA from INSEAD.
Plan your evening:
• 6.00-6.30pm Arrival and Networking (over coffee or beer)
• 6.30-8.00pm Talks
• 8.00-8.30pm Networking (Time to exchange your business cards and get a fresh pint of beer).
Organisers:
Arina Osiannaya - the founder The Business Funding Events (The only place where you can meet top-finance providers on a regular basis) and Osmond Dsilva, Tech City Coffee Meetups (Chef of coffee with a smell of money…)
Sponsored by:
Rockstar Hubs International is a part of Rockstar Group of Companies. Since 2007, The Rockstar Group has mentored and grown over 6,500 businesses in the UK. The Rockstar Group has some of the UK's most well known and respected entrepreneurs as its mentors. Within the group it also owns a law firm, hedge fund, crowdfunding platform, sales outsourcing firm and App development company.
Host:
WeWork is a platform for creators. We provide you with everything you need to create your life's work. We're growing our community in London with new spaces opening up throughout the city, get in touch to learn more: https://www.wework.com/locations/london/soho-london
***WeWork security request***
WeWork has requested that all attendees provide us with:
- Full name
- Email, and
- Company name
Make sure to complete the Eventbrite link per each visitor
Note: You may not be allowed into the building if you do not provide the above RSVP
We appreciate your cooperation in updating your RSVP to be an accurate representation of whether you will attend.