Meeting about a possible creative community space above the 'Old Fat Cat'

Thursday, January 17, 2013 from 7:30 PM to 9:30 PM (GMT)
Event Details
At the moment, the 3 floors above the former Old Fat Cat (now Frog & Parrot) pub are empty and Southampton City Council want things to be otherwise!  These floors were part of the old Tyrell & Green building and sit next to The Art House & the planned new Arts Complex in Southampton's Cultural Quarter, Above Bar.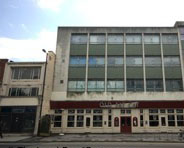 The building belongs to the City Council is currently on the market as a leasehold. However lots of options are being looked at to make use of the space.
The Art House have met with Councillor Simon Letts, who shares our feeling that some cultural & community use should be made of the space.  As it is in the cultural quarter, there is a lot of potential for a creative incubator to unfold.
At the moment, there are lots of ideas and we want to get anyone together who may want to be involved.
If there is enough real interest, we would be looking to form a co-operative or consortium to take the idea forward.
This meeting is for any organisations, businesses, individuals or groups who are:-
Potential tenants - who may want to be tenants should a development happen. This could be renting a small studio space, offices, music studios, dance studios or any other space you would need.
Potential users - who would be looking to hire rehearsal space, dance studios, workshop space etc on an hourly basis.
Potential supporters, backers, developers or staff - who may want to help make this project happen.
Agenda:
7.30pm Arrive at The Art House, get drinks, networking time (i.e. "talking to people"!)
 
8pm Brief introductions (who are you, what do you do?)
 
8.15pm Breakout groups: idea-storming on what space is needed by organisations & individuals.  Think big! Go wild!
 
8.35pm Report back from groups
 
8.55pm Questions (please ensure you have read the FAQs before you come, to avoid repeats!)
 
9.15pm Plan immediate next steps
 
9.30pm Close and time for networking (talking to people and having a drinky.)

The cafe will be open beforehand so that you can grab a drink, or even a light supper.  We will provide some light nibbles before the meeting.
Please RSVP using the registration button above.  All who register will be automatically added to the mailing list for the project, so that you can stay up to date.
Accessibility
Our first floor space is most suitable for this meeting, as the cafe will be open to the public and may be busy and noisy.  However, we do not wish to exclude anyone through lack of access.  If you need level access to attend this meeting, please let us know and we will make a plan.
If you can't make it, or are an interested party but this meeting isn't relevant to you, please join the mailing list here for updates:
We respect your privacy and will not pass your details on or use them for any other reason.  You can unsubscribe at any time.
Subscribe for updates
When & Where

The Art House
178 Above Bar St
SO14 7DW Southampton
United Kingdom


Thursday, January 17, 2013 from 7:30 PM to 9:30 PM (GMT)
Add to my calendar