Description
SA'ADAH & Wycombe Mosque Present:
Meetings with Mountains - High Wycombe Book Launch
Visual Presentation & Book Signing
With Peter Sanders
REGISTRATION REQUIRED
SUNDAY 8th SEPTEMBER 2019
Time: 3:00 PM - 6:00 PM
Venue:
New Bucks University
Owen Harris Lecture Theatre
Queen Alexandra Road
High Wycombe, Buckinghamshire
HP11 2JZ
*OPPORTUNITY TO BUY THE 'MEETINGS WITH MOUNTAINS' BOOK & PERSONAL SIGNING WITH PETER SANDERS*
PRICE £65 (Cash & Card Payments Accepted)
*Please Share Widely*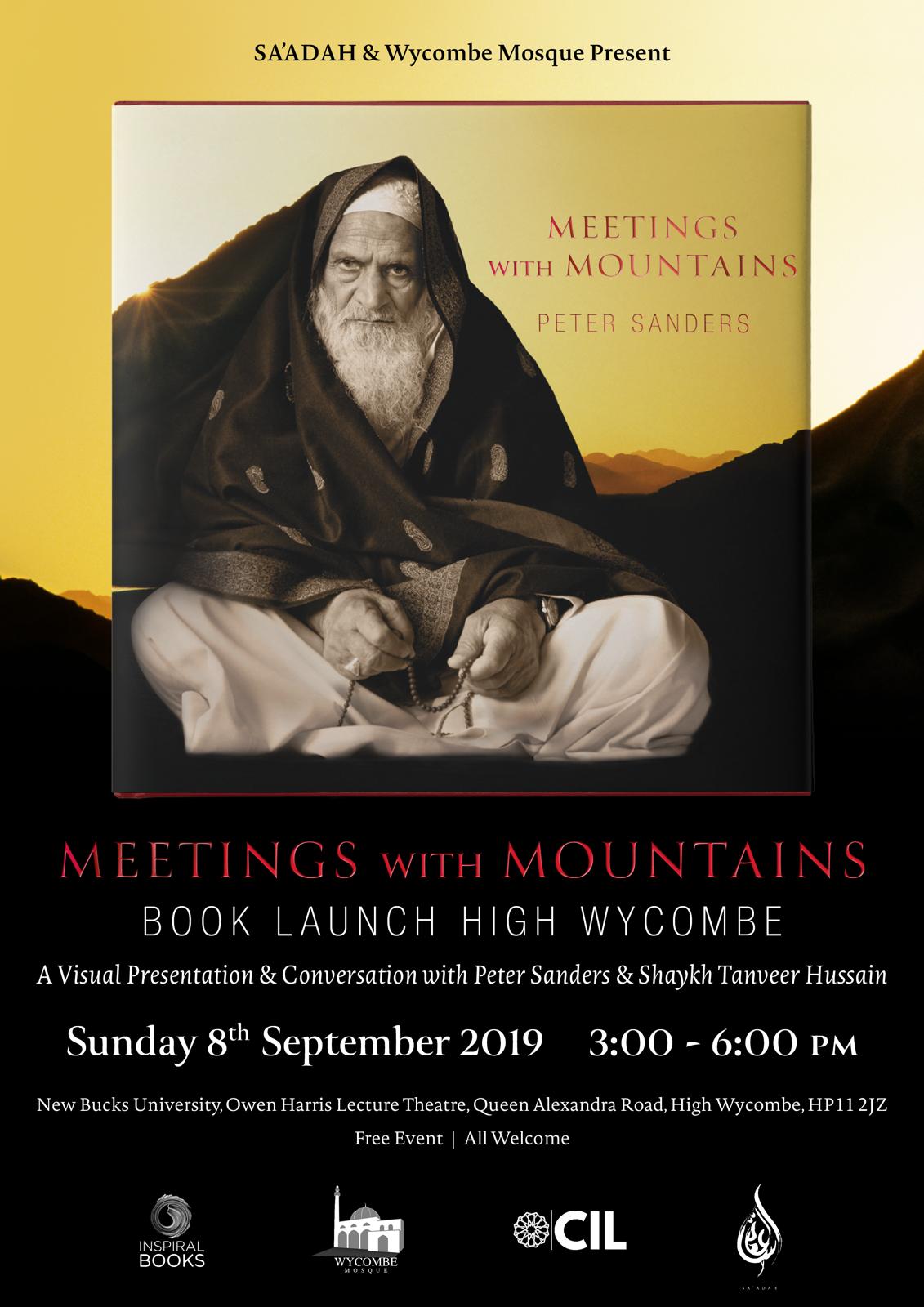 - - - - - - - - - - - - - - - - - - - - - - -
Short Synopsis for 'Meetings with Mountain' (MWM) Book
For nearly one half a century acclaimed British photographer Peter Sanders has traveled the earth to capture images of the saints of Islam. In the traditional world, these people of purity, knowledge and illumination have been the role models, benchmarks and exemplars of what it is to be human.
The goal of this spiritual tradition is nothing less than direct experience or

ma'arifa

(gnosis) of God's presence. The fulfillment and embodiment of this tradition is the Friend or Intimate of God. This lengthy search has finally culminated in the publication entitled

Meetings with Mountains, Encounters with the Saints and Sages of the Islamic World.
MEETINGS WITH MOUNTAINS - Book by Peter Sanders
A photographic document of the true face of Islam. The spiritual world of saints and sages of our time as a counter-narrative to the extremist position.
This new publication ''Meetings with Mountains'' has been compiled by internationally acclaimed photographer Peter Sanders' and is a landmark photographic essay on the true saints, sages and enlightened beings of Islam.
For over 45 years Sanders has travelled the world to find and photograph these exemplars, many of whom had never been photographed before.
"Meetings with Mountains" is an absolutely unique visual record of holy men and women from across the Islamic world, who represent the true picture of Islam and present a counter-narrative to the extremism.
The Muslim world's pre-eminent photographer and his five decade quest to capture the saints of Islam on film.
"Meetings with Mountains" is unique. No photographer in history has ever been able to capture so many great saints on film. Fifty years in the making, there has never been a book and will never be another book like it. Every photographic encounter Peter recorded was a sage on his/her own spiritual journey and with each photo he describes his own personal experience with every "Mountain" he meets.
This 380 page visual record, with over 250 beautiful photographs illustrates the encounters with nearly 100 illuminated souls. An important book, that aims to show the spiritual depth of Islamic culture and commemorate some of our greatest sages and saints. There has never been a time in our history when this has been more needed.
Peter Sanders has dedicated his entire adult life and all his personal resources to find and photograph the living saints and sages of Islam around whether in remote deserts and mountain retreats or in metropolitan centres and island archipelagos.
About Peter Sanders
Peter Sanders is the world's pre-eminent photographer of the Muslim world. For more than 45 years, he has captured over half a million images reflecting a rich traditional civilization filled with warmth, humanity and compassion.
He began his career in the 1960s as one of London's leading rock and roll photographers, and his images of Jimi Hendrix, Bob Dylan and the Rolling Stones, among others, are today considered classics of the period.
Peter's metaphorical journey of discovery started 50 years ago. Over that time he has amassed a photographic archive of more than 500,000 images.
Peter started his journey with the 'rock icons' of the late 60's and this led him to his early travels through India and its various faiths.
Peter's physical journey ran in parallel with his spiritual exploration of faith. These journeys led him to document the islamic world of peoples, architecture and geography. It also provided him the opportunity to meet with people around the world and photographed aspects of life and society.
It is the personal and spiritual insight that Peter gained that allows him to produce images that truly encapsulate the subject. More recently, Peter has been active in numerous ways to facilitate a greater understanding of the Islamic faith in the western world.
As a result of his activities Peter has been named as one of the 500 most influential Muslims in the world. He continues to act as a translator of Islam to those interested in acquiring a greater understanding and to encourage broader and deeper interactions between people of different races and faith.
He is a permanent Ambassador of the charity MOSAIC which was established by HRH Prince Charles and prior to that was on the Board of Trustees of MOSAIC for five years.
As an illustration of the breadth of influence, Peter received the 'Fashion and Islamic Art 2013' award from HH Sheikh Mohammed Bin Rashid al Maktoum in Dubai.