Our next MeetUp is for founders that want to have impact building businesses that have a positive influence on society.
About this event
**TO ATTEND THE EVENT, CLICK HERE TO SIGN UP FOR A FREE TICKET**
Our next MeetUp, delivered in partnership with Virgin Money, is for founders who want to build businesses which have impact.
Putting sustainability at the heart of startups will be an integral part of the future of business. This past year, we've learnt more than ever the positive impact that businesses whose success is driven not only by the profits they generate, but by the impact they have on our communities and the planet, can have.
From the growing demand of consumers, to movements like the B Corp certification, changing business for good is driving new founders to start purposeful businesses.
At our next MeetUp, we'll be uncovering how you can build a business which can make a positive impact on society.
Who's on the panel?
On the panel we have Emilie Vanpoperinghe, co-founder of Oddbox - a fruit and veg subscription service which delivers surplus food from supermarkets to your door. Oddbox is aiming to save 35,000 tonnes of fruit and veg from going to landfill by 2035.
Joining Emilie is Eshita Kabra-Davies, founder of By Rotation, the fashion rental platform building a conscious community of style obsessives who have a powerful purpose: to transform the fashion industry and bring sustainability to the front and centre. When Eshita Kabra-Davies witnessed the effects of textile waste during her honeymoon to her motherland Rajasthan, India, she wanted to use her passion for fashion to make a positive difference.
Our final speaker is Richard Johnson, author of the 'Mission Lit' Guidebook for entrepreneurs. He is an independent researcher, consultant and facilitator, and authored 'Mission Lit' for purpose-powered entrepreneurs looking to fix the world.
Here's how it will run: 
6:00PM–6:05PM · Introduction | Ben Keene and Andy Fishburn, Managing Director of Virgin StartUp
6:05PM–7:00PM · Panel Discussion | Where to start with building a positive impact business
7:00PM–7:55PM · Breakout Sessions x 3 (Max 10 participants, unlimited viewers, 55 mins long):
1) Ask Virgin StartUp anything - Ask us anything about Virgin StartUp
2) Post Panel Hangout - Debrief on the panel discussion with other guests & friends
3) Startup Mentor Q&A with a Virgin StartUp Mentor
7:55PM–8:00PM · Close | Andy Fishburn
What is a MeetUp?
Our MeetUps are designed for digital, and free to attend. A time for our community to come together, learn from experts, founders and each other, to find inspiration and guidance, and to come away with practical solutions to act on.
Alongside the panel discussion, there'll be a chance for audience questions before we break out into post-panel sessions, where you can take time to reflect on the interview, explore the themes of the discussion, ask questions of each other and learn more about Virgin StartUp.
We will also have a StartUp Mentoring session taking place with one of Virgin StartUp's Mentors.
To attend, you need to sign up for a free acocunt with Hopin and register using the link below or by clicking here.
**TO ATTEND THE EVENT, CLICK HERE TO SIGN UP FOR A FREE TICKET**
Terms & Conditions: 
i. Speakers and attendees are subject to change and we do not guarantee that any specific speakers or participants will appear at the event. However, we will always try to find a suitable replacement if one of our key speakers or participants is unable to attend.
ii. Views expressed by speakers at the event may not be the views of Virgin StartUp. Information and materials shared are provided on an "as is" basis and Virgin StartUp makes no warranty regarding the accuracy or completeness of these.
iii. By ordering a ticket and attending the online event, you consent to being recorded and photographed – either by film or screen casting - as an attendee and participant and to any subsequent footage and photographs of the event being used by Virgin StartUp in any medium for the promotion and marketing of Virgin StartUp and the Virgin group.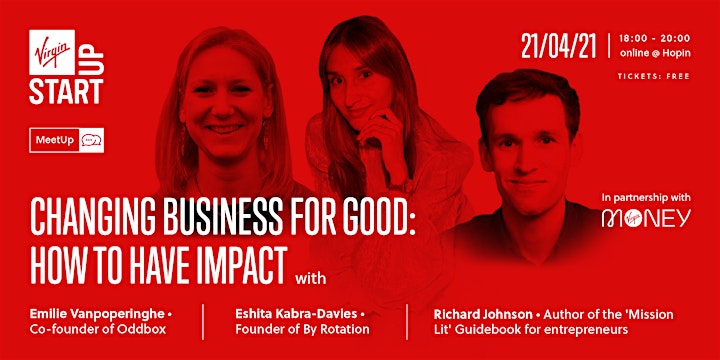 Organiser of MeetUp | Changing Business For Good: How To Have Impact