Our next MeetUp will find out how to go all-in on your startup with confidence.
About this event
**TO ATTEND THE EVENT, CLICK HERE TO SIGN UP FOR A FREE TICKET**
Are you thinking of packing in the day job and going full-time on your startup? How do you know when the right time to go all-in is? Find out at our next MeetUp.
There isn't just one way to be a founder. It's flying the plane whilst building it at the same time.  For most of us when starting out, we have to juggle the day job with our new venture, fitting in desk time, meetings and other responsibilities, whilst working a 9-to-5 to pay the bills. It's a difficult undertaking, and the harder we work on our startup, the more time it will demand, often with little in the way of a wage at the beginning.
At our next MeetUp on 24th March, bringing together a panel of expert founders, we'll hear exactly how they went full-time with their startups, and demystify the 'overnight success' to set a plan of action in place to help you turn your side project into a full-time venture.
How do you talk to your employer about going part-time? Should you tell your boss you're working on a startup? Whilst there's no 'perfect time' to quit the day job and go it alone, what are the options when your startup is gaining traction, and how do you find the confidence in yourself and your business to take the leap?
Our panel will share the stepping stones they took to go full-time, and hopefully can help inspire you to do the same.
Who's on our panel?
Joining us on the night are Ed Currie and Andy Coxon, West End performers turned founders of Akt, a new deodorant brand featured in internationally-renowned publications such as Harper's Bazaar. What started as a personal problem Ed wanted to find a solution to became an on-the-side gig between performing jobs - and is now a fully fledged business. Ed tells Theatre Weekly, "I was a dancer doing eight shows a week, rehearsing during the day, and fitting the gym in-between, but nothing was keeping me fresh and dry. I hated those underarm stains, and I was throwing so many clothes away because they were getting ruined." This led him to formulate the deodorant, and ultimately launch Akt with Andy.
Joining Ed and Andy on the panel will be Daisy and Liv Tinker, founders of A South London Makers Market, twins working in the fashion industry who set up their Market to create a platform for incredible small businesses across London.
And our final speaker of the evening will be Steph Giordano, founder of Baked by Steph, whose career began in the fashion industry, and pivoted to full-time baking for a living after initially cultivating her passion around her day job.
Founders from left to right are Daisy and Liv Tinker, A South London Makers Market, Ed Currie and Andy Coxon, Akt and in the front is Steph Giordano, founder of Baked by Steph
Here's how it will run: 
6:00PM–6:05PM · Introduction | Ben Keene and Andy Fishburn, Managing Director of Virgin StartUp
6:05PM–7:00PM · Panel Discussion | Quitting the day job: How to be a full-time founder
7:00PM–7:55PM · Breakout Sessions x 3 (Max 10 participants, unlimited viewers, 55 mins long):
1) Ask Virgin StartUp anything - Ask us anything about Virgin StartUp
2) Post Panel Hangout - Debrief on the panel discussion with other guests & friends
3) Startup mentor Q&A with a Virgin StartUp Mentor
7:55PM–8:00PM · Close | Andy Fishburn
What is a MeetUp?
Our MeetUps are designed for digital, and free to attend. A time for our community to come together, learn from experts, founders and each other, to find inspiration and guidance, and to come away with practical solutions to act on.
Alongside the panel discussion, there'll be a chance for audience questions before we break out into post-panel sessions, where you can take time to reflect on the interview, explore the themes of the discussion, ask questions of each other and learn more about Virgin StartUp.
We will also have a StartUp Mentoring session taking place with one of Virgin StartUp's Mentors.
To attend, you need to sign up for a free acocunt with Hopin and register using the link below or by clicking here.
**TO ATTEND THE EVENT, CLICK HERE TO SIGN UP FOR A FREE TICKET**
Terms & Conditions: 
i. Speakers and attendees are subject to change and we do not guarantee that any specific speakers or participants will appear at the event. However, we will always try to find a suitable replacement if one of our key speakers or participants is unable to attend.
ii. Views expressed by speakers at the event may not be the views of Virgin StartUp. Information and materials shared are provided on an "as is" basis and Virgin StartUp makes no warranty regarding the accuracy or completeness of these.
iii. By ordering a ticket and attending the online event, you consent to being recorded and photographed – either by film or screen casting - as an attendee and participant and to any subsequent footage and photographs of the event being used by Virgin StartUp in any medium for the promotion and marketing of Virgin StartUp and the Virgin group.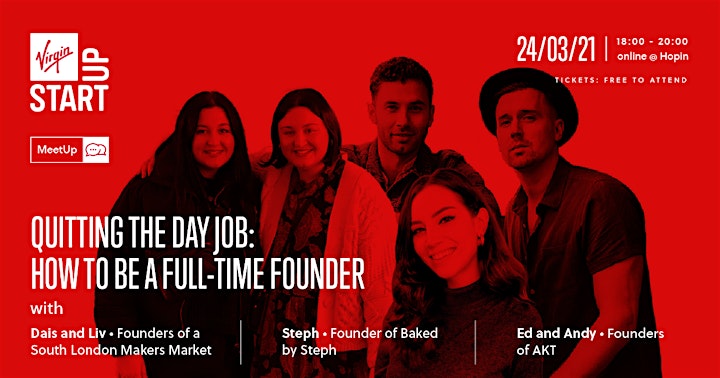 Organiser of MeetUp | Quitting the day job: How to be a full-time founder