Description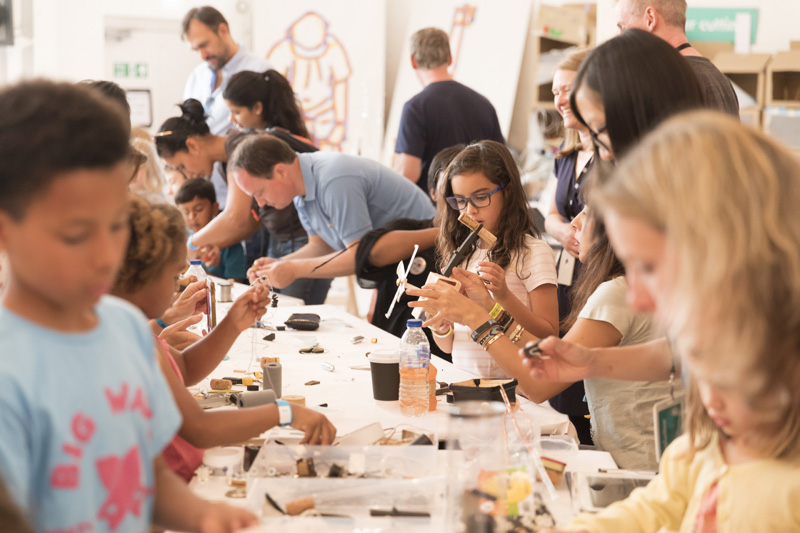 You're invited to… Mega Maker Lab
Join us at London's only summer experience dedicated to the imagination, where families can tinker, experiment and play together. Imagined by young minds for the next generation of inventors and makers – everyone is invited!
Looking for weekend tickets? Visit our Mega Maker Lab weekend page
What can I expect at Mega Maker Lab?
Included with entry to Mega Maker Lab, you can explore across five creative zones designed to inspire creativity, invention, making…and fun!
Imagine and Play zone
Unleash your imaginations as a family with building activities and challenges.
Try out a communal LEGO Build the Change challenge
Create a giant collaborative sculpture using Stixx Machines to tightly twist paper into structural materials
Add your course to a mega marble run to work with others to keep the ball rolling
Ideas zone
Be inspired in this creative, focussed zone to come up with ideas to change the world.
Get inspired by fun prompts to encourage you to think up ideas – anything goes no matter how whacky or bonkers!
Explore the Invention studio with a showcase of other young inventors' ideas
Challenge zone
In the challenge zone there are three BIG challenges to take on.
Tackle the wire making challenge and add creations from vehicles to buildings and people to Super Sky City, our mini-city in the sky
Create you own bot using junk modelling materials, batteries and hobby motors or hack a bot we've already built
Bring your own recycling and use our Pedal Powered Plastic Shredder, kindly lent by the Whale Company. The bicycle shredder was invented and created by the Whale Company and Singular Mars.
Test Arena
The arena is a maker space where you can create and prototype your inventions.
Try out junk modelling with up-cycled materials to create things that fly or move, test them out, find out what works and what needs upgrading and learn all about prototyping.
Test your inventions with wind machines, freewheeling ramps, flight spaces, race spaces and more.
Tools station
At the tools station you can try out tools in a safe space to bring ideas and inventions to life or get help from experts if you need tools you've never used before. Glue guns, screwdrivers, hobby motors, LEDs and more can be used or checked out so you can get your creations moving.
There will also be a pop-up show and tell area where you can get tips from experts and share your ideas.
When is Mega Maker Lab?
The experience is open 6 days a week from 1-31 August on Tuesdays, Wednesdays, Thursday, Fridays, Saturdays and Sundays. We will also be open on Bank Holiday Monday.
We are open 10am – 5pm.
You're on the Weekday booking page, where you can purchase Tuesday-Friday tickets. If you want to come on a weekend, visit the Weekend booking page here.
How much does Mega Maker Lab cost and who is it for?
Entry on Tuesdays, Wednesdays, Thursdays and Fridays is £5 per person. The experience is perfect for children aged 5-12 and their parents/carers.
If you are a Lambeth resident there are a limited number of discounted tickets available – email hello@ioi.london to request the code.
Groups booking 15+ visitors receive a 10% discount. Email us or call 020 7494 9153 to discuss requirements.
Do I have to book in advance?
As with all our events we recommend you book in advance, as we cannot guarantee entry if we are fully booked. Walk up tickets will be available if tickets are not sold out.
Where is Mega Maker Lab?
At The Workshop, 26 Lambeth High Street. We'll be in the Imagination Lab and the Engine Hall, with activities across 12,000 square feet of space!