Location
Scala
275 Pentonville Road
London
N1 9NL
United Kingdom
Sales Have Ended
Ticket sales have ended
La venta anticipada para esta fiesta ya no está disponible o se han agotado todas las entradas. Se ha reservado un cupo de entradas para su venta en taquilla desde las 22:00 horas, por orden de llegada, hasta completar el aforo. Aconsejamos venir pronto para evitar decepciones. ------------------------------------------ Advance sales for this event are no longer available or tickets have sold out. A limited number of tickets will be available at the door from 10 pm, on a first come, first served basis, until full capacity is reached. We recommend arriving early to avoid disappointment.
La fiesta española más gamberra, multitudinaria y conocida de Londres te lleva de vuelta a la época de los hippies, el amor y el buen rollo.
About this event
[SPANISH] English description below
Este mes os invitamos a acompañarnos de vuelta a los maravillosos años 60 para celebrar una de las fiestas temáticas más conocidas y divertidas que existen, ¡la Flower Power! ¡Viva el amor, las flores y el buen rollo, hostias!
Y como ya casi estamos en verano y el tiempo londinense es más soportable en esta época, nos vestiremos para la ocasión con estética hippie; con pelucas, gafas, chalecos, pantalones de campana, trajes largos, collares y/o diademas florales, y, en definitiva, echando mano de todo tipo de ornamentos y accesorios vintage que nos sirvan para meternos en el papel e imaginarnos durante toda una noche que estamos de vuelta en la dorada época del amor, el buen rollo y los movimientos pacifistas.
Decoraremos la sala principal para darle un toque sesentero, colorido y psicodélico y, además, a vuestra entrada podréis fotografiaros en un photocall que montaremos con diversos accesorios y complementos para que podáis inmortalizar el momento y echaros unas risas con el resto de vuestra comuna hippy. Y, como siempre, tendremos mucha animación con flotadores, hinchables, lluvia de globos y cañones de confeti para que la diversión esté garantizada hasta que, literalmente, vomitéis arcoíris y se os caigan las piernas de tanto perrear.
¿Y qué hay de la música? No os preocupéis, porque no será música de la que escuchaban nuestros padres y abuelos en sus mejores años, sino lo habitual; temazos españoles a saco, reguetón clásico y actual, éxitos virales, pop, dance, R&B, urban y una selección muy energética de clásicos fiesteros para que podáis darlo absolutamente todo hasta que amanezca en tres espacios musicales bajo un mismo techo.
¡No os lo perdáis!
IMPORTANTE
ANTES DE COMPRAR TU ENTRADA LEE ATENTAMENTE LAS CONDICIONES Y HORARIOS QUE SE APLICAN. TEN EN CUENTA QUE, SI LLEGAS TARDE, NO SE TE PERMITIRÁ EL ACCESO Y TENDRÍAS QUE VOLVER A PAGAR EN PUERTA.
__________________________________________________________________________________________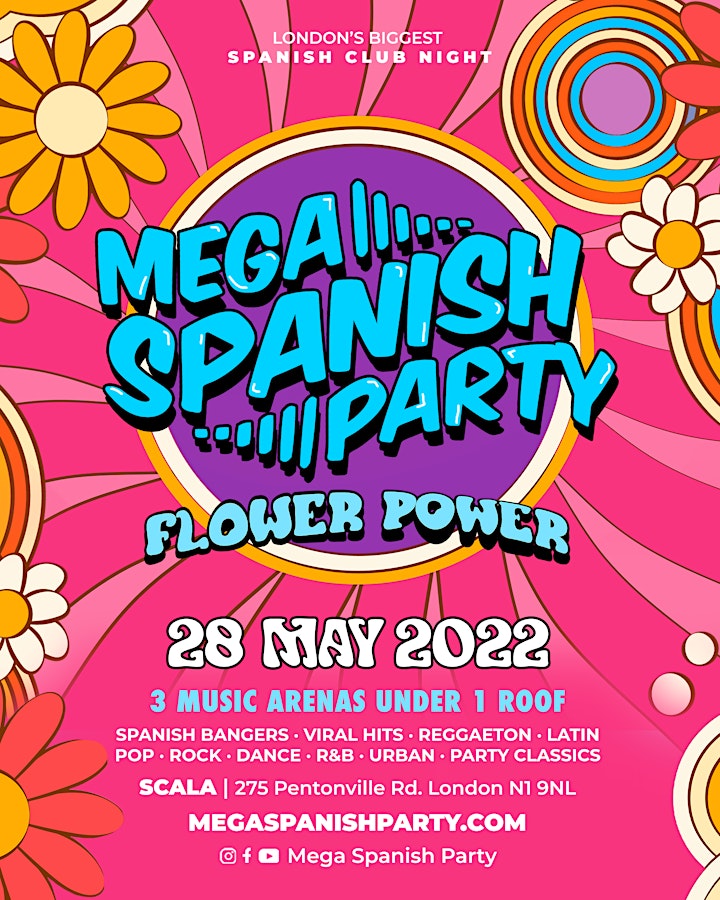 [ENGLISH]
This month we invite you to join us as we take you back to the wonderful 60's to celebrate one of the most popular and fun theme parties around, Flower Power! Peace, love and good vibes only!
And as it' s almost summertime and the London weather is a bit more bearable this time of the year, we will dress for the occasion with hippie aesthetics; using wigs, glasses, waistcoats, bell-bottoms, long dresses, floral necklaces and tiaras, and making use of all kinds of vintage ornaments and accessories to help us get into the spirit and imagine for a whole night that we are back in the golden age of love, good vibes and the anti-war movements.
The main room of the club will be decorated to give it a sixties, colourful and psychedelic touch and, on arrival, you'll be able to have your photo taken in our photocall with a variety of vintage props and accessories to immortalise the moment and have a laugh with the rest of your hippie commune. And, as always, our infamous entertainment with floats, inflatables, balloon drops and confetti cannons will be waiting for you so that the laughter and fun are guaranteed until your legs literally fall off.
And what about the music? Don't worry, as it won't be the kind of music our parents and grandparents used to listen to in their prime, but rather the usual; Spanish hits, classic and current reggaeton smashers, chart hits, pop, dance, R&B, urban and a very energetic mix of party classics so you can give it your all until the break of dawn in three music areas under one roof.
Don't miss out!
IMPORTANT
BEFORE PURCHASING YOUR TICKET, PLEASE ENSURE THAT YOU CAREFULLY REVIEW THE ADMISSION TIMES AND CONDITIONS THAT APPLY. PLEASE NOTE THAT IF YOU ARRIVE LATE, YOU WILL NOT BE ALLOWED ENTRY AND MAY BE REQUIRED TO PAY AGAIN AT THE DOOR.