About this Event
This four-part course with practical exercises will cover the Basic & Advanced techniques of Melody, Harmony & Hook Writing – you'll learn the elements of what makes a great melody & how to incorporate them into your own songs.
In songwriting Melody is King & it stands or falls on very fine margins – we only have relatively few notes to play with. If you feel you are not making the most of your melodies sign up for a wealth of fresh ideas!
Looking at contemporary & classic songs of all genres we'll delve deeply into essential topics, basic & advanced, such as using Rhythmic Hooks, Motifs, Pitch, Chords & Prosody as well as a simple guide to reading music, music theory & much much more!
The series will include the following comprehensive Melody Writing classes:
16/07/20 – Developing Melodies & Hooks with Rhythmic Motifs
23/07/20 – Melodic Note Choices
30/07/20 – Effective Chord Progressions
06/08/20 – Supercharge your Melodies with Pitch & Prosody
These sessions are suitable for songwriters of all experience levels & the price of the course is £80 but if you sign up for the early-bird price the total is discounted by 15% to only £67. There are limited places available & you will be sent a Zoom link after booking.
Testimonials from previous attendees:
I've taken 5 different workshops in the past 3 years & have never seen a facilitator approach this subject with such a straightforward method of analyzing song structure in order to replicate successful writing techniques.
"A really helpful, eye-opening course, full of great ideas, tips & tricks"
"Opened up music theory, ear-training & encouraged me to learn an instrument"
"Great to visualise the melodies as well as hear them. It was just what I was looking for"
Also, don't forget to check out our companion Lyric Writing Course starting 21st July: http://www.londonsongwriters.org/course/4-week-melody-course/
-----------------------------------------------------------------------------------------------
Murray Webster has over 40 years experience as a multi-genre songwriter, having performed at some of the most prestigious music venues including The Astoria, The Hammersmith Palais, The Forum, The WAG Club, The Mint (LA) and Douglas Corner Cafe (Nashville). Plus Radio and TV appearances on the Gilles Peterson and Gary Crowley shows and Channel 4 documentaries on The Soho Jazz Festival supporting Courtney Pine. He has recorded and filmed with producer Marius de Vries (Madonna, Bjork, John Legend, David Bowie etc.).
He has taught monthly London Songwriters workshops for the last eleven years, including sixteen highly successful week-long Countryside Songwriting Retreats. He has a Masters Degree in Songwriting, a PTLLS qualification as a Community Music Leader and has mentored young people in music skills for NCS – The Challenge.
His self-produced tracks feature on CD-released albums commemorating the Shakespeare 400 centenary as well as World Cup and Christmas compilations, being part of a project series featured in The Guinness Book Of Records, as well as single and album releases on CBS Records. He also has self-released tracks on all digital platforms.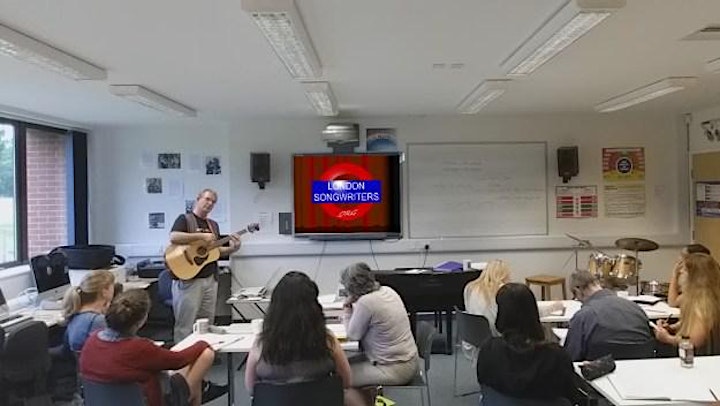 Date and Time
Location
Refund Policy