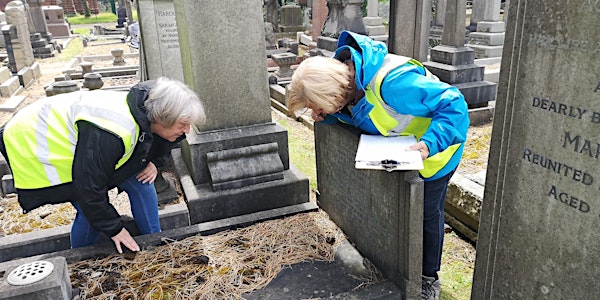 Memorial Recording - Exploring the Stories of Brandwood End Cemetery
Location
Brandwood End Cemetery
Woodthorpe Road
Birmingham
B14 5AE
United Kingdom
Learn how to record memorials in Brandwood End and help create a valuable archive that track the stories of the community that surrounds it.
About this event
Burial grounds are the chronicles of our communities. They tell us about lives long lived and those cut tragically short, of disaster, illness and immigration of fashion and wealth. These places are full of stories.
Join us in recording the inscriptions and details of the memorials in Brandwood End Cemetery and help create a valuable social history archive of the lives of those buried there.
"Are you interested in people and their stories? During a recording session, volunteers pair up and one takes on the role of a 'writer' and the other a 'reader' and it is the conversations that spring from that collaboration that I love. The discussion around deciphering a difficult script or a weathered carving, the appreciation of craftsmanship or longevity when we don't expect it, a moment of quiet when a recorder acknowledges a tragedy or a short life. Recorders often finish inspired to find out more about one or two of the people they have 'met' during the session, weaving the stories of those from the past into our present. '
George - session organiser