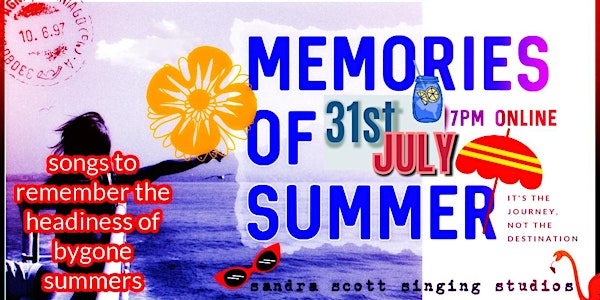 Memories of Summer - Fabulous Songs to Evoke the Warmth of A Summer Evening
Fabulous Songs to Evoke the Warmth of a Summer Evening
About this event
Fabulous Fun & Free Summer Songs
From Mungo Jerry to O Sole Mio by way of Summertime ….an evening of song celebrating summers past when the weather was hot and we could reach right up and touch the sky!! ..sheer fabulousness of summers past.
An evening of fun, melancholy and ice cream!
After our hugely successful Risky Business, Vocal Legends , Songs of Stage and Screen and Diva concerts and enjoying an ever growing audience our talented singers will delight with well known and not so well know faves!
Sandra Scott Singing Studios singers have embraced many performances online with vibrancy and flair, creating a real sense of inclusion and camaraderie between the many talented singers and audiences from UK, Ireland, Netherlands, Denmark, Spain, France and as far afield as USA ,Colombia, South Africa, Canada and South Africa.
The Concert is suitable for all ages and is Free.
www.singinglessonsinlondon.com