ADAM, WHERE ARE YOU? The first question we encountered from God to man, a question still valid now. Today, we answer.
About this event
MEN, WHERE ARE YOU?
412 Annual Men's Gathering
Adam, where are you? The first question we encountered from God to man. A question that he's still asking today. Today, we answer.
The theme this year is based on:
Genesis 3:9 "But the Lord God called to Adam and said to him, Where are you?
This question is multifaceted but what e know from the reason and answer is Adam and Eve fled from the presence of God because of the knowledge of their nakedness AND shame AND fear.
Commonly taught is God called out to the man Adam where are you, showing hierarchy of responsibility and showing us when the man is displaced, so is everything else. We believe that if men can be restored, it begins the ripple effect of change.
This conference we want to unpack this and more, as the question teaches us more about a God who still desired fellowship with man even though man had sinned.
What to expect:
+ real talk "breakout sessions"
+ encouraging word
+ dynamic worship
+ fellowship with the man dem
Panel discussion focus:
+ self awareness - I'm I aware of my emotional well being?
+ shame - how do I healthily grow & move on from it?
+ weakness - how do I manage my weakness?
These are all areas we believe we greatly enhance the experience of 21st century manhood and help restore a biblical paradigm to it.
Keynote Speaker:
+ Pastor Isaac Williams
Panelists:
+ Ayokunu Oduniyi
+ Pastor Isaac Williams
+ David Powell
+ Elder Rob
WE LOOK FORWARD TO SEEING YOU!
INVITE A BROTHER AND LET'S GROW TOGETHER!
To exhibit or more information email: contact@four12men.com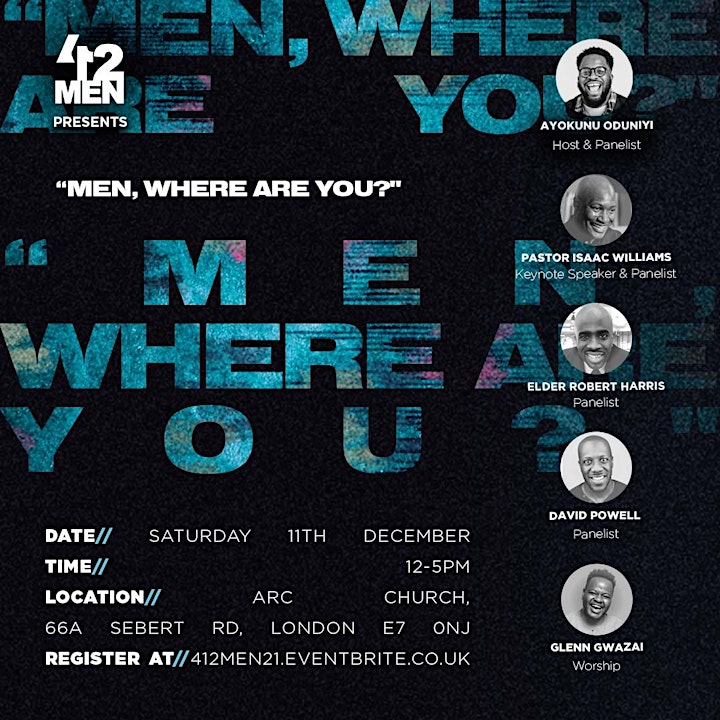 Organiser of MEN, WHERE ARE YOU? - 412 MENS GATHERING