Description
Mendi ~ best known as a Yemeni dish, but cooked by Bedouin throughout the Arab world ~ is meat fragrantly dressed in a yoghurt and tumeric-based paste, then cooked under ground, on top of smouldering wood, under a ceramic or iron cover.
We've gone for the overground version and will be smouldering our organic chicken, replete with yoghurt, cinnamon, tumeric, black pepper, safflower, lemon rind and dried lime, in a large ceramic urn oven or Jara ~ "جرة" , served on a base of hand-crushed mild chilli and tomato muhammara, with fresh radish, levantine cucumber and home-made pickles.
Turn up, lay your rug out, and lull with the atmosphere, with whatever beverages you desire. We'll have our characteristic fresh black tea with cinnamon, cardomom, mint and walnut, on tap for everyone who eats.
So we can get a good idea of numbers in advance, it'd be great if you could register here, telling us whether or not you intend to eat. Tickets are all free, and you pay for food on the day. Non-hungry voyeurs are welcome to join and soak in the vibe.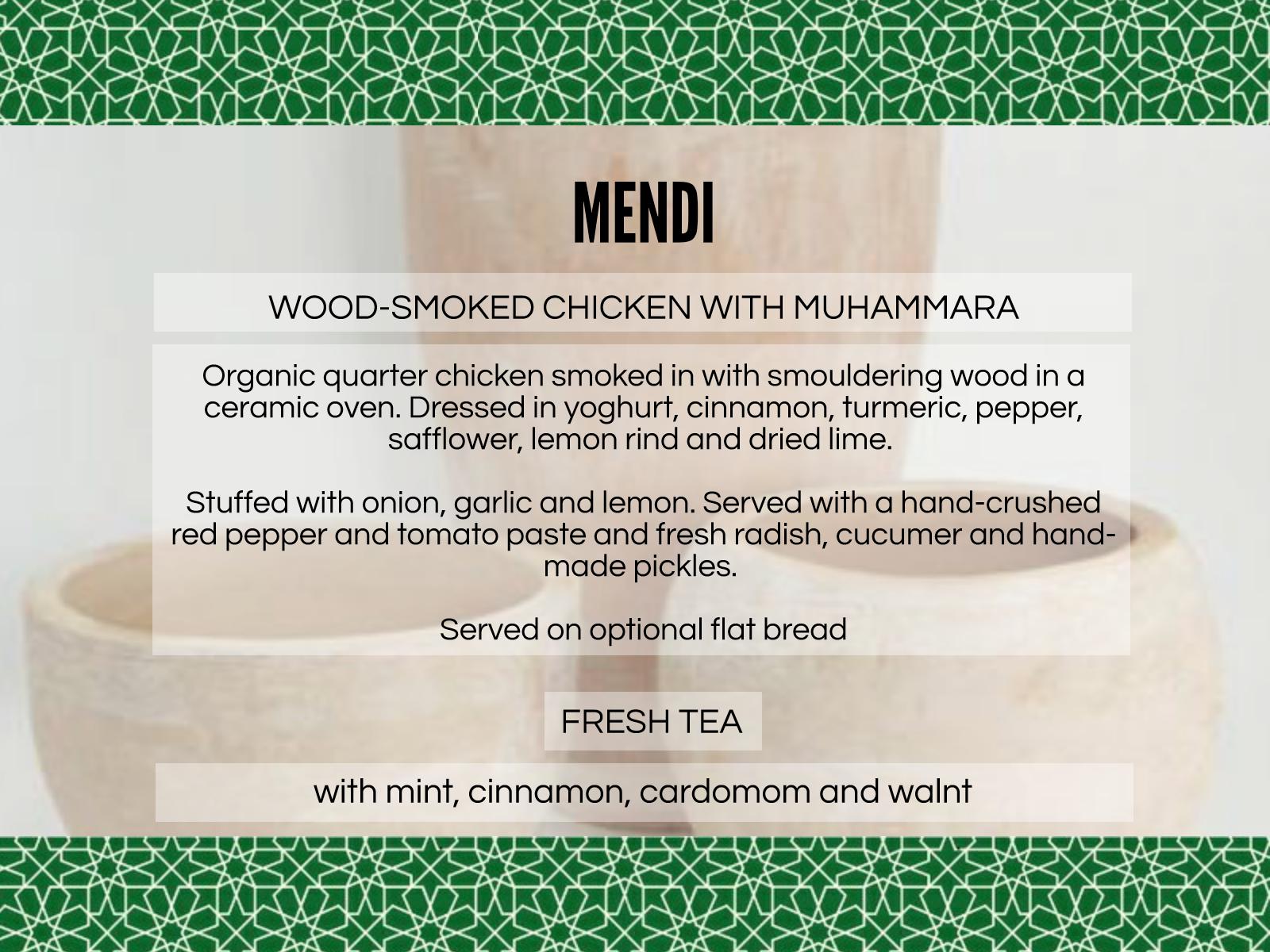 FAQs
Kids?
Oh yes! We know that lots of you have trouble making it down to our Friday night fixture at the Good Hope owing to lack of babysitters and deteriorating dining ettiquette in the under-7 bracket, so you are doubly welcome for these three Saturday afternoon fests.

Parking?
There's no dedicated parking area at Mountsfield Park, but feel free to try your luck in the streets in the surrounding area. Parking is free on most on Saturdays. That said, mendi feasts go wickedly with early evening strolls home.

Is it BYOB?
Yes - we'll be serving tea, bedouin style, alongside our mendi, but feel free to bring bottles.
How much will the Mendi cost?
We haven't published the prices, as we're yet to budget it all out. All the meat will be organic and halal and we'll be using recycled bamboo plates to serve. So, quarter chicken mendi plus tea, salad and muhammara base is likely to be circa £8. We'll confirm this price asap. We'll be taking all payments - in cash and card on the afternoon itself.
Can we share a dish?
Of course, you're welcome to come down and share a dish.

Is it halal?
Yes - all the meat we serve is organic AND halal!

Isn't mendi usually served with rice?
Keeping true to our low-carb, and rich protein and veggie-heavy style, we'll be serving our mendi on a rich muhammara base, radish, cucumber and home-made pickles instead of rice. We'll also have optional flat bread to hand. There's no going home hungry.

Date and Time
Location
Mounstfield Park Community Gardens, Mountsfield Park
Stainton Road
London
SE6 1AN
United Kingdom