An online Webinar raising Menopause awareness of benefit to employees and employers (regardless of gender)
About this event
The Unite Union WULF project are pleased to be fully funding and supporting this training.
The webinar will be delivered by Jayne Woodman from The menopause Team and is funded by the Unite Union Wales Union Learning Fund
Please note this training is only open to residents of Wales, United Kingdom!
Background
Women make up 47% of the UK workforce, 28% of these women are aged 50+, and represent the fastest growing workforce segment. By 2022 1 in 6 employed women will be 50+.
The menopause is a natural stage of life and usually occurs between the ages 44 to 55, the average age for a woman to go through the menopause is 51.
59% of women experiencing the menopause say it has a negative impact on their work (CIPD 2019) and often have no prior knowledge about what the menopause can entail.
Menopause awareness sessions are of benefit to employees (regardless of gender) and employers. Each woman experiences the menopause differently. Some symptoms can lead to increased absence and lower levels of engagement and productivity. Without the right support at work, women can feel they have no choice but to leave their job role often placing themselves in financially precarious situations.
Team Leaders and managers often feel uncomfortable discussing the menopause with their staff, usually due to a lack of understanding and trepidation about making things worse. Menopause awareness sessions demonstrate to all that the wellbeing of women is being taken seriously.
What the Menopause Awareness Sessions Entail:
Figures to highlight the numbers of women involved.
Explanation of the menopause and related symptoms. Advice for individuals on taking control of the menopause and how to manage the medical profession.
How to develop support networks and how to promote organisational awareness and change. Opportunities for education for all – this is not just a female issue.
Guide to some of the menopause resources available.
What the Attendees will gain:
Understanding of community, the menopause stages, symptoms, potential impact and what can be done. Case study examples.
Ability to discuss the menopause and any concerns in a safe environment.
An understanding of what women should be able to expect from their employer.
Sign-posting to evidenced based menopause research organisations and resources such as Menopause Cafés.
Resource list to aid individual menopause research.
Online Training Delivery
This training will be delivered online using the MS Teams video conferencing app.
A link to join the session will be sent out 1 hour before the webinar starts
Please log in to the training 5 minutes beforehand to allow the training to start on time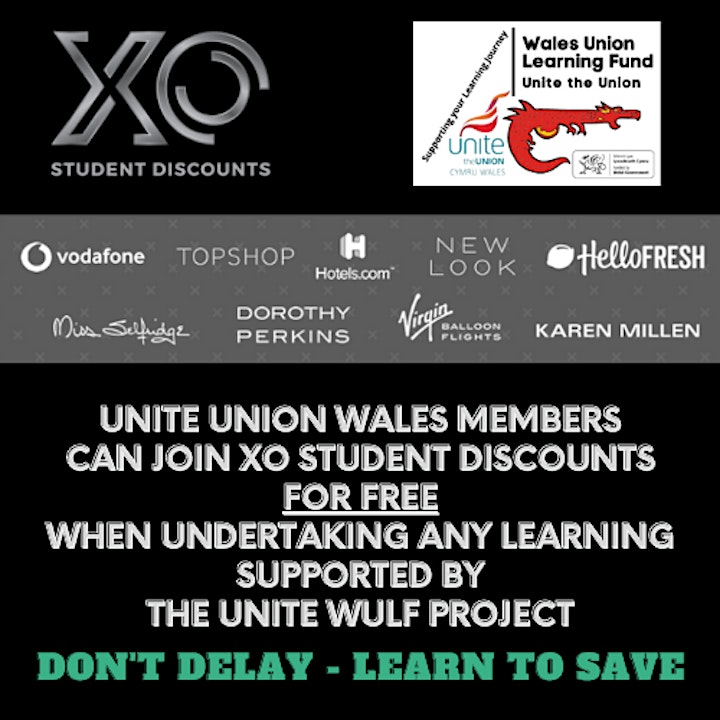 Student Discount
If you are a Unite the Union member living in Wales, who undertakes any training supported by the Unite WULF project, you can join XO Student Discounts For FREE (normally £10 per annum).
Click HERE to join see more from XO Student discounts
If you want to join XO Student discounts, then please contact the Unite WULF team: Learnwithunite.wulf@unitetheunion.org
Not a member then ......
Join Us
If you are not a member of Unite the Union, you can join by clicking HERE to access additional benefits and support as part of your Union Membership.
Follow Us
Please follow the Unite WULF social media feeds for the latest updates on training offers and courses:
Facebook: https://www.facebook.com/UniteWalesLearning Click here
Twitter: https://twitter.com/UniteWulf Click Here
Web: https://unitewulf.cymru Click HERE
Contact Us
If you have any questions, please contact the Unite Wales Learning team: learnwithunite.wulf@unitetheunion.org
About the Speaker
Jayne Woodman has over twenty years of blue chip company experience in Human Resource Management.
She now lectures in the areas of leadership and management (on a part-time basis) at Swansea University. Her two, very cute, Scottish Terriers are credited with keeping her sane during the lockdowns!
Jayne set up The Menopause Team in 2019, with the aim of raising menopause awareness so employers and employees can understand and work with the menopause; ensuring employees are empowered and organisations offer support, maintain productivity, employee engagement and retain valuable female talent.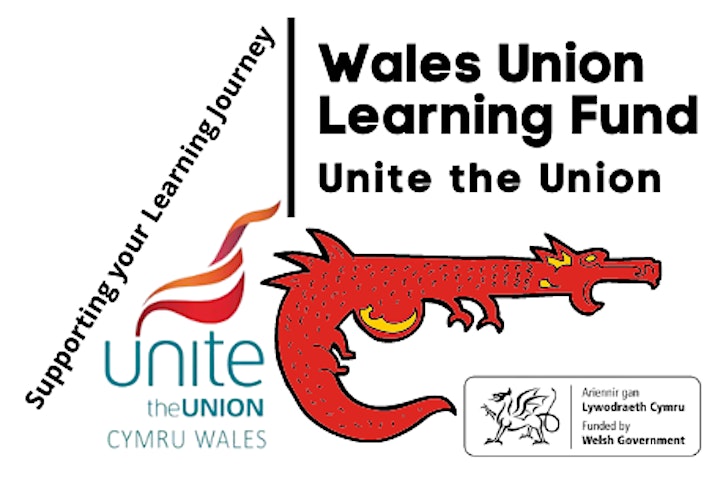 A Note About Data Collection
This training is funded by the Welsh Government funded Wales Union Learning Fund (WULF) project.
Please note that, for you to receive support from the WULF project, we are required to collect specific information from you during the registration process. This information is collected for project monitoring and evaluation purposes only.
Get in touch with learnwithunite.wulf@unitetheunion.org prior to making your booking should you have any queries or questions about providing the information requested.