Event Information
Location
ONLINE EVENT or JOIN IN PERSON AT
Herman Miller Showroom
2 Kingsway
London
WC2B 6LH
United Kingdom
This is a Hybrid event - choose between joining online or physically in our London Showroom
About this event
This is a Hybrid event - choose between joining online or physically in our London Showroom
Menopause has historically been seen as a 'woman's issue' and ignored in the workplace. That is until now. Because of the nature of Menopause everyone is affected, yet most of us know nothing about it other than the ubiquitous negative media stereotype. With increasing numbers of highly skilled women approaching or experiencing their Menopause and choosing to leave the workforce due to a lack of support, this is the last taboo that the workplace has yet to face.
Key topics for the session are:
Why Menopause is both an EDI (Equality, Diversity and Inclusion) and Wellbeing issue which impacts us all
What it is and how it impacts women and their careers
Historical bias and stereotypes and how to break them
What managers need to do and why
How to open the conversation around Menopause
How the workplace can support Menopause
Who is this session for?: Anyone and everyone who knows a woman, works with a woman or is a woman.
20 attendees will be lucky enough to receive a copy of Kate's book YOUR SECOND PHASE
Timings:
Central Time - 9:00 am
Eastern Time - 10:00am
Greenwich Mean Time (UK) - 14:00
Central European Time - 15:00
South African Standard Time - 16:00
Eastern European Time - 16:00
Arabia Standard Time - 17:00
Gulf Standard Time - 18:00
Indian Standard Time - 19.30
You will receive a link 2 days before the webinar
SPEAKER - KATE USHER
Kate is an experienced coach and change strategist with a specialism in Menopause and gender equality. She works with women and organisations to create simple strategies that enable modern and supportive Menopause conversations. This increases awareness of this life phase, its pivotal impact on equality across the workforce and representation in senior and executive positions.
She is an internationally published author, her book 'Your Second Phase – reclaiming work and relationships during and after Menopause' is available in Europe, North America, South East Asia and Russia. It was also shortlisted for the Business Book of the Year Award 2021.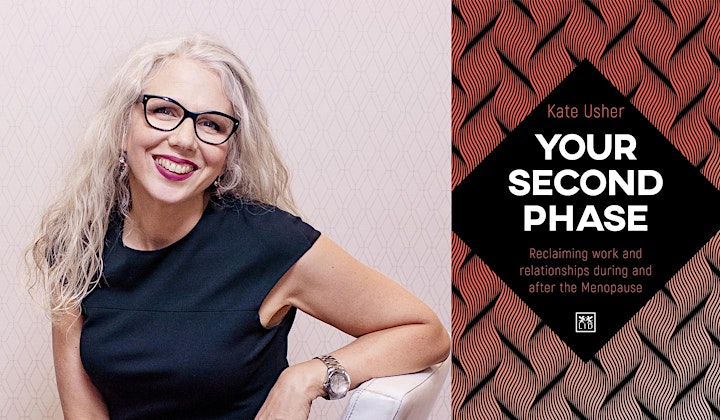 Date and time
Location
ONLINE EVENT or JOIN IN PERSON AT
Herman Miller Showroom
2 Kingsway
London
WC2B 6LH
United Kingdom
Organizer of Menopause – Breaking the last workplace taboo - with Kate Usher