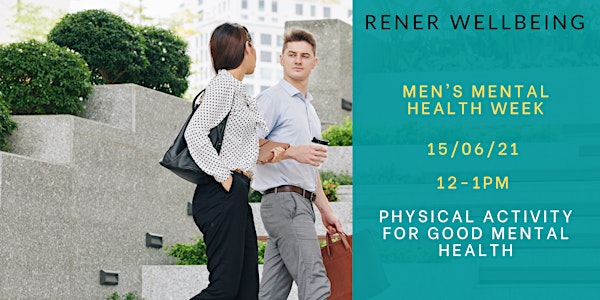 Men's Health: Physical Activity for Good Mental Health -Workplace Movement
Physical Activity for Good Mental Health - in Partnership with Workplace Movement, brought to you by the South Westminster BIDs
About this event
The South Westminster BIDs are collaborating with Workplace Movement as part of Men's Mental Health Week 2021.
This session will help attendees understand how to build physical activity into their working day and personal life as a practical way to improve wellbeing and to improve and maintain good mental health.
Rener Wellbeing are running this session in partnership with Workplace Movement (Active Partnerships national workplace physical activity service). The session includes:
• Mental health and physical activity quiz
• What is mental health, discussion
• Stress
• Mental Health benefits of exercise
• Five ways to wellbeing
• Being active at work
• Signposting
• Tips
About Khalil Rener - Director of Rener Wellbeing:
Khalil Rener is the Director of Rener Wellbeing and is an expert wellbeing consultant. He has worked with 100s of organisations across the world, such as Deloitte, WeWork, Sport England and Southwark Council, to support their employees to improve their wellbeing through workshops, wellbeing consulting and 1:1 wellbeing support. He has a BSc in Sport and Exercise Sciences and an MSc in Sport Management from the #1 university for sports related subjects in the world, Loughborough University.