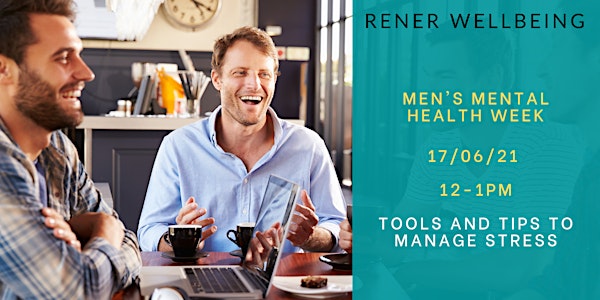 Men's Mental Health: Tools to Help Improve & Maintain It - Rener Wellbeing
Men's Mental Health: Tools and Tips to Help Improve and Maintain It with Rener Wellbeing, brought to you by the South Westminster BIDs
About this event
The South Westminster BIDs are collaborating with Rener Wellbeing as part of Men's Mental Health Week 2021.
Everyone has mental health, just as they have physical health. The stigma of mental health is slowly decreasing, however it is still difficult for many to speak openly about it or to address it.
This workshop will support men and help them become more aware of how mental health impacts their happiness, health and work in a tangible and relatable way.
In the session, Rener Wellbeing
• provide tools and tips on how men can begin speaking about mental health with more comfort and confidence.
• support men to be more aware and comfortable with their feelings, so they can begin to address them.
• provide tangible ways that men can sustainably support their own unique mental health.
About Khalil Rener
Director of Rener Wellbeing: Khalil Rener is the Director of Rener Wellbeing and is an expert wellbeing consultant. He has worked with 100s of organisations across the world, such as Deloitte, WeWork, Sport England and Southwark Council, to support their employees to improve their wellbeing through workshops, wellbeing consulting and 1:1 wellbeing support. He has a BSc in Sport and Exercise Sciences and an MSc in Sport Management from the #1 university for sports related subjects in the world, Loughborough University.