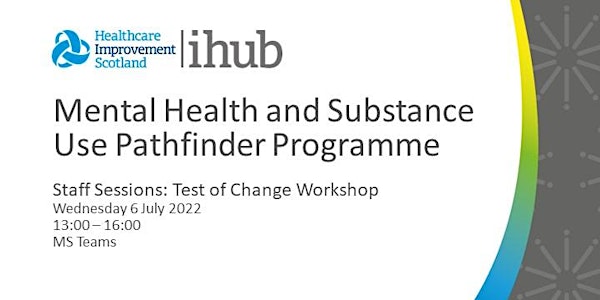 Mental Health and Substance Use: Staff Sessions: Test of Change Workshop
We are pleased to invite you to the Mental Health and Substance Use: Staff co-design session on Wednesday 6 July 2022 at 13:00, via MS Teams
About this event
We're asking frontline staff within Tayside to join us on 6 July at 13:00 to share their own thoughts and ideas for improvement. The aim of this session is to arrive at a defined shortlist of improvement ideas that we'll bring to a combined staff and lived experience session where we will select that ideas to implement as a test of change.
This session will be ran by the Mental Health and Substance Use Pathfinder Programme which is redesigning care pathways to improve the quality of care and health outcomes for people with both mental health and substance use support needs. The co-design and co-production sessions are for people with lived and living experiences of mental health and substance use and frontline staff to have their say on where they would like to see change. By holding these sessions we hope to increase opportunities for people with lived experience, communities and partners from across the system to be engaged in the planning, design and delivery of integrated mental health and substance use services.
The project team welcome you to attend the workshop to help develop tests of change for mental health and substance use pathways.