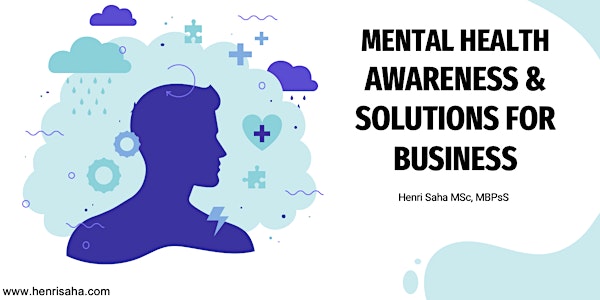 Mental Health Awareness AND Solutions for Businesses
Join Wellbeing Consultant and former Head of Mental Health & Wellbeing at Vitality for this FREE workshop on Awareness AND Solutions
About this event
Do you believe that your people are your greatest asset?
Do you want to give them the best conditions to perform, to be happy and fulfilled in their life and their work?
Are you starting to see how this is fundamental to business success?
The landscape around Mental health has been changing for a while. Awareness is greater than ever, stigmas are starting to fade and more people are opening up about the experiences and challenges they have faced or continue to be facing. These are all big steps in the right direction and yet many insist we remain in the midst of a crisis, a crisis that has grown immeasurably since the pandemic started to impact our daily lives.
So what can be done about it? How can we make sure we are tackling this problem effectively? How can you do your part? Isn't it about time we moved from awareness to solutions?
This 1.5 hour workshop will cover some of the key aspects of what we can do on a day to day basis to help improve the situation once and for all.
This workshop is perfect for HR professionals, managers, anyone responsible for the wellbeing of others as well as people just looking to increase their knowledge of the topic.
You will learn:
- How to spot the signs of poor mental health in yourselves and others
- How to have supportive and open conversations with those who may be struggling
- The responsibilities of you as an employer; when and how to signpost to further support. And much more besides!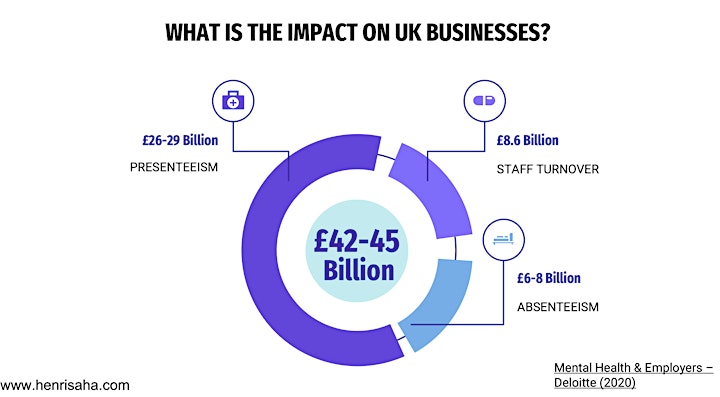 Your instructor is Henri Saha:
I have a passion for creativity and helping people to better understand their emotions and experiences whether related to work, play or life in general. I love to laugh and enjoy and embrace every moment life has to offer. Learning about mental health can and should be an enjoyable experience, even if, at times it is uncomfortable and challenging.
I love playing music, writing songs, film, restaurants and am an avid football fan and golfer.
Having studied, lectured and worked in applied settings using traditional psychological methods I have an excellent understanding of these approaches. I have also explored spiritual, mindfulness based and neuroscience perspectives and my approach to wellbeing and mental health encompasses the commonalities to be found from all of these areas.
Further Experience:
Corporate Wellbeing
Since January 2020 I have designed and delivered mental health and wellbeing strategies in the form of workshops and training/coaching (delivered mainly online) to corporate and SME clients. Topics covered included positive wellbeing, mental health awareness, understanding stress & anxiety, resilience, supporting others effectively etc.
Private Coaching
Since 2013 I have delivered one-to-one and group coaching for athletes and the around the topics of confidence, concentration, dealing with pressure, recovering from mistakes/setbacks, resilience, mindset etc. I have worked extensively within football and golf as they are my main sporting passions.
Since 2016 I have helped general folk (non-athletes) to transition successfully from full time work into self-employment, understand emotions better with regard to stress and anxiety, develop resilience, confidence, wellbeing and happiness.
Higher Education
University of Bedfordshire , Hertfordshire - Visiting lecturer in sport & exercise psychology, research methods and statistics, 3rd year supervisor.
Social Care
I spent 2 years supporting individuals with dual diagnoses of severe mental health challenges such as schizophrenia, bipolar etc. and significant learning difficulties towards independent living.
Additional industries - I have also worked extensively within the hospitality and retail industries and spent many years teaching English as a Foreign language in Cambridge, London and Hanoi, Vietnam.
Organiser of Mental Health Awareness AND Solutions for Businesses
Henri has over 10 years of experience exploring and sharing insight on the human experience and Psychology in various ways, shapes and forms. He has lectured at Universities, taught in schools and worked with elite sports people and teams as well as entrepreneurs and business owners on managing and understanding their emotions and how to deal with the pressures and stresses of 21st Century living.