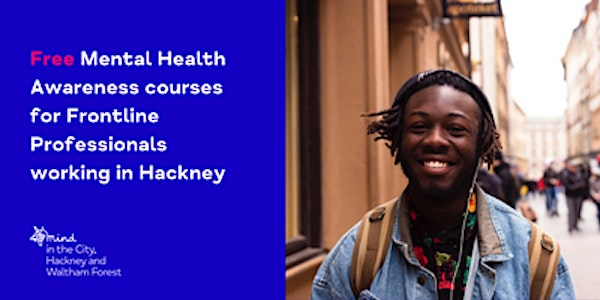 Mental Health Awareness & Signposting for Professionals working in Hackney
Become mental health aware
About this event
Are you a frontline professional working in Hackney?
This course aims to raise awareness of mental health, and how to understand and recognise the causes, symptoms and support options for a range of common and less-common mental health problems.
Understand the true meaning of mental health, learn to recognise common mental health issues and how you can help someone who needs support.
Having a deeper understanding of mental health can empower yourself and others to lower stress, increase resilience, feel supported and live more happily.
This virtual course will help you to define mental health, recognise some common issues, unravel some of the stigma and learn how to support yourself, clients, family and colleagues who may be experiencing symptoms such as stress, depression, anxiety or isolation.
"1 in 4 people will experience a mental health problem of some kind each year in England. 1 in 6 people report experiencing a common mental health problem (like anxiety and depression) in any given week in England" – mind.org
Post pandemic and with a clear increase in mental health issues in the UK, good mental health is vitally important for individuals, organisations, and society as our physical health. It has an impact on work productivity, educational achievement, community and family relationships, social interactions, and overall quality of life across the entire Hackney population.
Free Mental Health Resources
All delegates will receive:
A comprehensive signposting document containing details of support services in Hackney
A workbook including a helpful toolkit to support your own mental health
A certificate of attendance
This is a half day course, delivered virtually, using a mix of presentations, group discussions, activities and videos to stimulate your learning and ensure maximum engagement.
Delivery format
This course lasts four hours and is delivered using virtual classroom technology, which includes a mix of presentations, group discussions, activities and videos to stimulate your learning and ensure maximum engagement. Courses are delivered by expert trainers who have completed the rigorous MHFA England Instructor Training programme by the Royal Society for Public Health.
Who should attend?
Hackney frontline professionals wishing to learn more about and encourage positive mental health and understand how to support and signpost someone with mental health issues.
Managers who want to understand how to better support themselves and their teams, especially given the existing global climate.
No prior knowledge or training is needed.
How will I benefit?
This course has been designed to raise your awareness of mental health and help you gain:
A balanced understanding of mental health and how to successfully challenge stigma
Knowledge around the most common mental health issues
The tools to look after your own mental health and maintain resilience and wellbeing
The confidence to support someone who may be experiencing a mental health issue or in distress
Information on local mental health services and where to signpost to for support
Key topics
Introduction to Mental Health
What influences mental health?
Stigma & discrimination
Key statistics and who might be at higher risk?
Understanding mental health conditions such as depression, anxiety, psychosis, eating disorders
The road to recovery
Leading empowering, transparent, and sensitive conversations
How to support someone who is suicidal
Your mental health toolkit.
Please note before signing up:
This course is funded by the London Borough of Hackney. It is free and strictly for professionals working in Hackney. By signing up to the course you are committing to attend.
If you are unable to attend on the day, please offer your place to a colleague who might benefit from the course- otherwise we will charge a non-attendance of £30.
Please contact training@mindchwf.org.uk for more information.
We will forward you Zoom links 1 day before course commencement