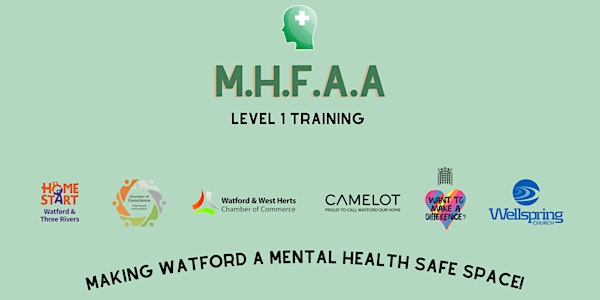 Mental Health First Aid Awareness Training (Sara Crean-Muir)
We are on a mission is to train 1,000 people in Watford in Mental Health First Aid.
About this event
In partnership with the Watford MP, Watford Chamber of Commerce, Wellspring Church and kindly sponsored by Camelot. This Watford project will provide Mental Health First Aid training to local businesses, residents, schools, charities and community groups.
We are making Watford a Wellbeing town!
This is the half-day Level 1 Awareness of First Aid for Mental Health Certification. The half-day (virtual) workshop followed by private one-to-one Professional Discussion Assessments in the afternoon.
The overview of the morning session is below:
• Module 1 – Introduction
• Module 2 – What is first aid for mental health?
• Module 3 – Identifying mental health conditions
• Module 4 – Providing advice and starting a conversation
• Module 5 – Stress
• Module 6 – Mental health conditions
• Module 7 – Assessment and course closure
For residents, volunteers, students, small businesses, charities and people from lower incomes, the training will be free of charge. For businesses there will be a fee of £50 per participant*. All participants must be a resident or affiliated to the Watford constituency to partake.
Dean Russell MP said "I am delighted to be able to launch this project with the support of the prime minister, the Watford & West Herts Chamber of Commerce and so many brilliant local people. Transforming the Mental Health of our town is a personal priority of mine and even though Covid-19 slowed down this initiative, I am so pleased to be able to get it back up and running again.
Chris Luff, CEO of Watford & West Herts Chamber of Commerce: "We believe Mental Wellbeing is the most critical and impactful issue that faces our workforce today. In both our personal and professional lives, we all have a responsibility to participate & contribute to the wellbeing of our community - regardless of what you do, who you are and where you come from. I am pleased to work with our local MP and wider community making Watford a Wellbeing town."
*The cost to businesses is dependent on the size of the organisation. Group training is also available .
Please contact events@watford-chamber.co.uk for more information.