Event Information
Refund Policy
Refunds up to 30 days before event
About this Event
This Adult Online Mental Health First Aid (MHFA) course qualifies you as a Mental Health First Aider
Mental Health First Aid (MHFA) is an internationally recognised training course developed by MHFA England, this course is for anyone wishing to become a Mental Health First Aider. The course teaches people how to spot the signs and symptoms of mental ill health, gain the confidence to act promptly and the skills to guide someone towards the right help. In the same way as we learn physical first aid, mental health first aid teaches you how to recognise those crucial warning signs and react, even in a crisis and potentially stop a crisis from happening.
Every Mental Health First Aid course is delivered by Mental Health First Aid Instructors who are registered by MHFA England to deliver the accredited courses. MHFA England training programme is accredited by the Royal Society for Public Health.
Course Structure
The new online version of our course delivers the same learning outcomes of the popular 'face-to-face' Adult MHFA Two Day course in an accessible and flexible online format. The course is structured around a blend of individual learning and four live sessions.
Session 1
Individual learning – 1hrLive session one – 2hr 5min - 22nd Sept 9.00am-11.05am
Session 2
Individual learning – 2hrsLive session two – 2hrs 50min - 22nd Sept 2.00pm-4.50pm
Session 3
Individual learning – 2hrsLive session three – 2hrs 20min - 24th Sept 9.00am-11.20am
Session 4
Individual learning – 2hrsLive session four – 2hr15min - 24th Sept 2.15pm-4.30pm
For more information visit our website:
https://edu-c8.co.uk/online-training/onlinemhfa/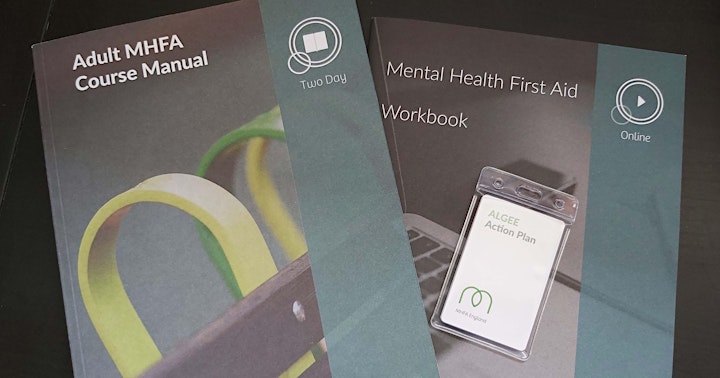 Takeaways
Everyone who completes the course gets:
A certificate of attendance to say you are a Mental Health First Aider
A manual to refer to whenever you need it
A quick reference card for the Mental Health First Aid action plan
A workbook including a helpful toolkit to support your own mental health

Why choose Edu-c8 for Mental Health First Aid training?
We believe in supporting our Mental Health First Aiders in supporting others with our Support and Resources Members Hub. All MHFA delegate trained by Edu-c8 will be invited to join our new free members-only Hub with exclusive online support and resources which includes:
• Online support via our email service • Resources and materials to help you in your role as an MHFAider including links to local services and helplines• Advice and resources on implementing MHFA throughout your organisation including promotional materials• Newsletter to keep you up to date with MHFA England and general mental health and wellbeing news
What's the refund policy?
If the workshop is cancelled by Edu-c8 Inspired Training, you will be offered a place on a course on an alternative date. If a suitable alternative date cannot be arranged, your payment will be refunded in full.
In the event of a participant's non-attendance or cancellation within 30 working days before the beginning of the course, the payment is non-refundable subject to our discretion.
Date and Time
Location
Refund Policy
Refunds up to 30 days before event