Mental Health First Aid Training 2 Day Accredited Course for Agriculture
About this Event
Adult MHFA Two Day course qualifies you as a Mental Health First Aider. The course is funded by Somerset Community Foundation with thanks to The Bath and West Showground and The Somerset Mental Health in Agriculture Group.
Mental Health First Aiders have:
An in depth understanding of mental health and the factors that can affect wellbeing
Practical skills to spot the triggers and signs of mental health issues
Confidence to step in, reassure and support a person in distress
Enhanced interpersonal skills such as non-judgemental listening
Knowledge to help someone recover their health by guiding them to further support - whether that's self-help resources, through their employer, the NHS, or a mix
What to expect
Numbers are limited to 16 so that you can feel safe and supported while you learn. The training room is Covid secure and a full risk assessment has been carried out. We also conduct health questionnaires prior to training.
You will get an MHFA manual to keep and refer to whenever you need it. When you complete the two days you'll get a certificate to say you are a Mental Health First Aider. This can take up to 2 weeks to arrive.
Learning takes place across four manageable sessions. Through a mix of group activities, presentations and discussions, each session is built around a Mental Health First Aid action plan.
Session 1
Why Mental Health First Aid?
The Mental Health First Aid action plan
What is mental health?
Impact of mental health issues
Stigma and discrimination
What is depression?
Symptoms of depression
Risk factors for depression
Depression in the workplace
Session 2
Suicide figures
Alcohol, drugs and mental health
First aid for suicidal crisis
Non-judgemental listening skills
First aid for depression
Treatment and resources for depression
Self-care
Session 3
What is an anxiety disorder?
First aid for anxiety disorders
Crisis first aid after a traumatic event
Alcohol, drugs and anxiety disorders
Treatment and resources for anxiety disorders
Cognitive distortions and CBT
Personality disorders
Eating disorders
Self-harm
Session 4
What is psychosis?
Risk factors for psychosis
Alcohol, drugs and psychosis
Schizophrenia
Bipolar disorder
Warning signs of developing psychosis
Crisis first aid for acute psychosis
Treatment and resources for psychosis
Recovery and building resources
Action planning for using MHFA
FAQs
Does the venue have disabled access?
Yes there is complete disabled access
Is it a safe venue?
Both venues we are using for these training courses have been chosen because of their size / ventilation and cleanliness. We will make sure there is a 1m plus between participants and all venues have been risk assessed.
Do I have to attend both days?
Yes This course is a 16 hour course so both days are non negotiable. These tickets are valued at £295.00 you are having a free place please do not miss this event if you book for it.
Is my registration fee or ticket transferrable?
No its sadly not transferrable. 
Is it ok if the name on my ticket or registration doesn't match the person who attends?
No the booking name needs to be the same as the person who attends for registration purposes.
Will I automatically pass the course?
No, It's important that the whole course is attended not the start and finish times on each day. We expect all participants to mirror the values of Mental Health First Aid and participate fully in the two day workshop. 
Parking Information
There is plenty of free parking
Lunch
You will need to provide your own lunch on both days.
Venue
The School Room is in the centre of the village address: The Old School/School Rd, Bridgwater TA7 0LN
There is plenty of the space in the hall and we have tea and coffee available throughout the day.
The venue is accessible by bus however the first bus from Bridgwater bus station wont get you there till 9.33 so we start at 9am so you may have to opt for a taxi
https://www.rome2rio.com/map/Bridgwater/Westonzoyland#r/Line-16-bus
H Cabs Bridgwater 01278 444788
You can find a cycle route here: https://www.bikemap.net/en/l/2634300/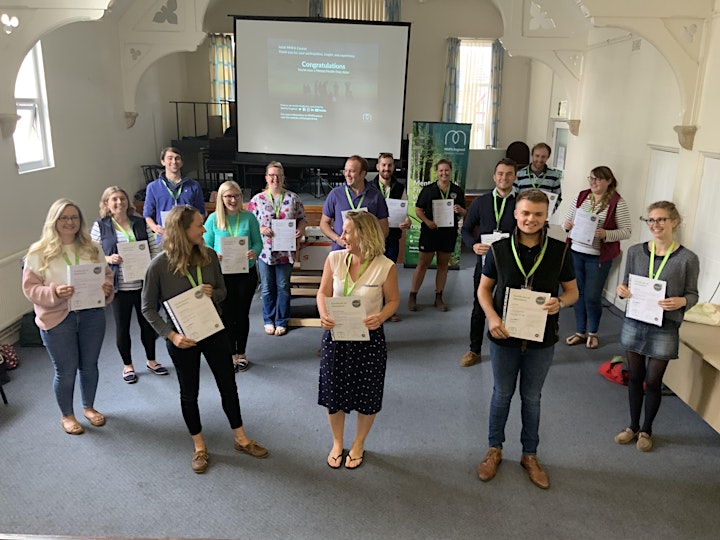 Here are Somerset Young Farmers attending the training in August 2020
"Becky was an excellent instructor who pitched the course at exactly the right level for the group. It was relevant, interesting and thought provoking. I now feel more than equipped to help those that may be in some sort of crisis. Thank you so much."Rebecca Horsington
"Becky was a fantastic instructor and allowed us time if we needed it. She couldn't have been better." Thanks Becky. Joy Davenport
"The course opened my eyes to how mental health can affect so many people in day to day life even without anyone else realising something may be wrong with them. Our trainer Becky was great at talking through all areas relating to mental health and would highly recommend people to do the course."Will Lawton
Places on this course are funded by The Somerset Community Foundation