Mental Health First Aid Training 2 Day Accredited Course ONLINE
Event Information
Refund Policy
Refunds up to 7 days before event
Eventbrite's fee is nonrefundable.
Adult MHFA Two Day course qualifies you as a Mental Health First Aider. There is written work with this online qualification.
About this Event
Adult MHFA Two Day course qualifies you as a Mental Health First Aider. This course is now being delivered online. We have trained 195 people as Mental Health First Aiders.
This curse covers the areas listed below but not in this order.
Mental Health First Aiders have:
An in depth understanding of mental health and the factors that can affect wellbeing
Practical skills to spot the triggers and signs of mental health issues
Confidence to step in, reassure and support a person in distress
Enhanced interpersonal skills such as non-judgemental listening
Knowledge to help someone recover their health by guiding them to further support - whether that's self-help resources, through their employer, the NHS, or a mix
What to expect - This course is now held online all participants have been notified.
Session 1
Why Mental Health First Aid?
The Mental Health First Aid action plan
What is mental health?
Impact of mental health issues
Stigma and discrimination
What is depression?
Symptoms of depression
Risk factors for depression
Depression in the workplace
Session 2
Suicide figures
Alcohol, drugs and mental health
First aid for suicidal crisis
Non-judgemental listening skills
First aid for depression
Treatment and resources for depression
Self-care
Session 3
What is an anxiety disorder?
First aid for anxiety disorders
Crisis first aid after a traumatic event
Alcohol, drugs and anxiety disorders
Treatment and resources for anxiety disorders
Cognitive distortions and CBT
Personality disorders
Eating disorders
Self-harm
Session 4
What is psychosis?
Risk factors for psychosis
Alcohol, drugs and psychosis
Schizophrenia
Bipolar disorder
Warning signs of developing psychosis
Crisis first aid for acute psychosis
Treatment and resources for psychosis
Recovery and building resources
Action planning for using MHFA
FAQs
Does the venue have disabled access? Its ONLINE
Do I have to attend both days?
Yes This course is a 16 hour course so both days are non negotiable. 
What are the timings of the Live online sessions
9am till 11.30am and 2pm till 4.30pm on both day.
How much hone study do I have to do? 8 hours
Individual learning – 1hr
Live session one – 2hr 30 min
Individual learning – 2hrs
Live session two – 2hrs 30min
Individual learning – 2hrs the evening of day 1
Live session three – 2hrs 30mins
Individual learning – 2hrs
Live session four – 2hr 30min Every Each live session includes a 10min break.
Individual learning will be a mix of reading, videos, and workbook activities
Is my registration fee or ticket transferrable?
No its sadly not transferrable. 
Can I have a free place?
We only offer one free place per course to someone who is a Veterans, Reserves, Military Spouses & Service Leavers this is part of our Armed Forces Covenant Pledge.
Is it ok if the name on my ticket or registration doesn't match the person who attends?
No the booking name needs to be the same as the person who attends for registration purposes.
Will I automatically pass the course?
No, It's important that the whole course is attended not the start and finish times on each day. We expect all participants to mirror the values of Mental Health First Aid and participate fully in the two day workshop. 
Why should I train with New Leaf
You will become part of our New Leaf network of Mental Health Firs Aid Trainers. You will be kept updated. You will be able to attend free events. You will be able to gain support when needed.
What do I get as part of my training?
Everyone who completes the course gets:
A certificate of attendance to say they are a Mental Health First Aider
A manual to refer to whenever they need it
A quick reference card for the Mental Health First Aid action plan
A workbook including a helpful toolkit to support their own mental health
A copy of the Line Managers' Resource, an invaluable source of advice on how to support an employee experiencing mental ill health
Our Autumn outcome study shows
Overall 91% reported that Mental Health First Aid Training had a positive impact on their workplace.
98% felt their knowledge and confidence to support those with mental health issues within their workplace has improved as a result of training with us.
73% felt the culture of the workplace had changed and there was more acceptance of employees being absence due to mental health issues
For more frequently asked questions please visit https://www.newleaf.uk.com/services/mental-health-first-aid-course-online/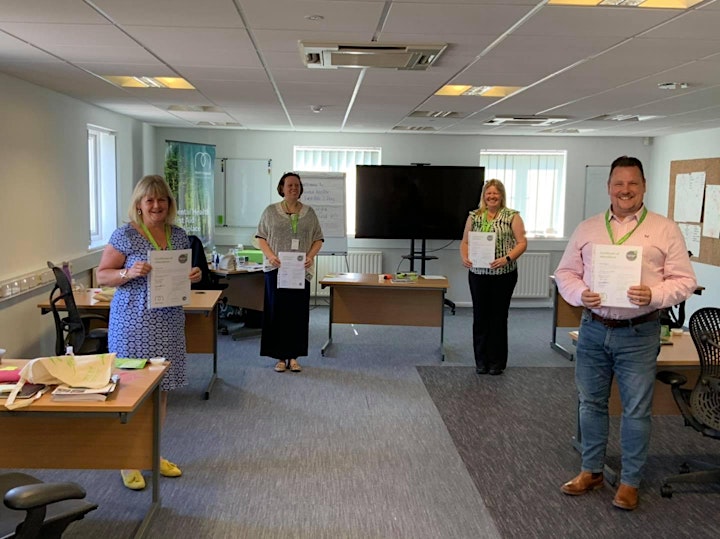 This group attended in July 2020 showing safe distancing. Their feedback was excellent.
Helen one of the participants said, " Given social distancing measures it felt totally safe, considered and and not at risk whilst completing the course. Measures had been put in place prior to attending and reiterated during brilliant venue, everyone was very considerate of each other and exercises had been perfectly adapted."
Juliet another participant said, " Becky delivered a very interesting course and was able to, 'bring to life' with her wealth of experience. It was good to be able to participate face to face so we could have some good discussions . Becky and Ben made sure the venue was Covid safe which allowed me to focus on MH and not worry about being in a room with others, highly recommend thank you."
Date and Time
Location
Refund Policy
Refunds up to 7 days before event
Eventbrite's fee is nonrefundable.