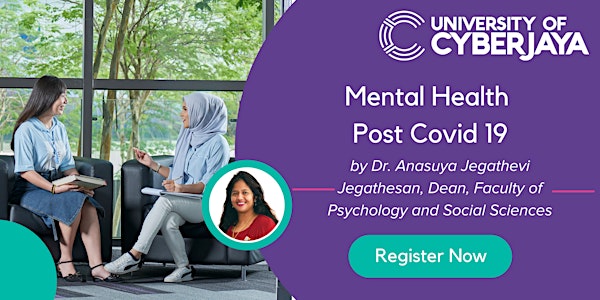 Mental Health Post COVID 19 by UoC Faculty of Psychology & Social Sciences
This talk looks at the world now, and the events that have and are shaping our world past COVID 19.
About this event
This event is both an on-campus and online event. You can submit questions for our lecturer to answer during the talk here: https://pigeonhole.at/UOCPSY
This talk looks at the world now, the events that have and are shaping our world past COVID 19. Mental Health is an area of growth and interest as it addresses the issues of human beings managing themselves and others during this period of time. It is increasingly clear that technology, biology and society all contribute to and are impacted by the general mental wellness of individuals and the population. The talk will address trends and issues that create avenues for future careers and goals.
About the Speaker:
Assoc. Prof. Dr Anasuya is currently the Dean of the Faculty of Psychology and Social Sciences at the University of Cyberjaya. She was previously the Director of the Center for Human Excellence and Develop and the Programme Director for the Master of Counselling at Taylors University, School of Liberal Arts and Sciences. She earned her Doctorate in Counselling from the University of South Australia, she is a licensed and practicing counsellor in Malaysia for over 15 years. She is a certified trainer in Reality Therapy and a Thanatologist and sits on the National Advisory Council for Counselling 2017-1018.
Previously she served as the Programme Director for Psychology at Taylors and the Academic Head of the Masters in Counselling programme for HELP University. She gives talks and workshop on issues of mental health in the workplace, looking especially at practical applications and crisis interventions. She has sat on the Boards of numerous NGOs. She has conducted workshops internationally and for numerous corporations such as ROCHE, Bank Negara Malaysia, Royal Selangor, MIDF and many others. She volunteers her time as the Counsellinng Supervisor for numerous NGOs such as Kechara Soup Kitchen, PT Foundation and Malaysian Invisible Illness Association.
Dr. Anasuya has co-edited a book on Multicultural Counselling: application of Improved Mental Health Services as well as developed therapy cards "Journey Through Life" to be used in sessions. She does a continuous series of talks titled "Eyes on our Children" Sessions that looks at the safety of children and teenagers in Cyberspace.
In terms of research, Dr Anasuya has published a book on "Multicultural Counselling Applications for improved Healthccare services" and papers on Reality Therapy and Multicultural issues. Her research areas are intercultural interaction, spiritual counselling, death and grief, adolescence and ethical issues in counselling.