Description
Join us for a special evening with Natasha Devon MBE to hear her refreshing views about mental health and what we can do to create a culture supporting good mental health for everyone.
Natasha is particularly passionate about helping young people (plus their parents and teachers too!) and on making positive changes to the way the media covers issues relating to mental health.
This is a unique chance to hear Natasha's inspiring story, to discover what really matters for good mental health and to join a growing movement of passionate people taking action to help put things right.

"Natasha is sassy, funny and delivers her message with a refreshing dose of kick-ass, no-nonsense honesty" ~ Rosie Mullender, Cosmopolitan
About The Speaker
Natasha Devon MBE is a writer and campaigner who has dedicated her life to promoting positive mental health, body image, gender & social equality. She delivers talks to schools and colleges, conducts research and regularly gives evidence to the Education and Health Select Committees, representing the interests of teenagers and teachers.
Natasha has authored several books and writes for The Guardian and The TES. In 2016, the Sunday Times named Natasha one of the 500 most influential people in Britain. She is co-founder of the charity Body Gossip. In 2015 Natasha was awarded an MBE for her services to young people.
"This is essential - full of practical and useful tips" ~ Eamonn Holmes
This event will take place at Conway Hall in central London on Wednesday 6 December 2017. Doors will open at 18:30 and the event will start at 19:00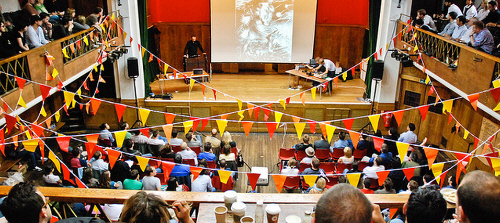 Tickets
This event is in support of Action for Happiness. We want to make it accessible to as many people as possible, so rather than charging a fixed fee we're instead asking you to make a donation. It would be great if you could donate £20, but if you can spare more, or feel unable to give that much, then please give what you feel is appropriate.
Any funds raised (beyond the costs of the event) will contribute directly to Action for Happiness' work to promote mental wellbeing in local communities. Action for Happiness is part of the Young Foundation, a Registered Charity (274345) in England and Wales.
Any questions about the event please contact events@actionforhappiness.org.
We look forward to seeing you there!

Organiser of Mental Health: why it matters and what we can do - with Natasha Devon MBE