Mental Resilience – Look after yourself, look after your business
When the pressure is really on, how we react determines where we end up.
About this event
When the pressure is really on, how we react determines where we end up.
About this Event
Gain control over your mindset, so you can control your business and get the results YOU want. This webinar is focused on helping you to realign your mindset so that you feel confident, motivated and prepared to not only survive, but thrive. We will be discussing how to adopt a growth mindset so you can take action to move your business and your life forward.
Successful people do what unsuccessful people don't do.  "Don't wish it were easier, wish you were better" – Jim Rohn
This webinar is ideal for you if you:
Want to adopt a positive mindset to help you achieve your goals
Have been impacted by Covid, Brexit or any other external forces;
Feel stuck or lacking direction in your business
Want to start seeing better results in your personal and professional life
During this webinar you will learn:
What is resilience and how do I build it?
Why your comfort zone is your enemy in disguise
The power of choice we all have at any moment in time
The cost of not taking opportunities because of fear
How to overcome fear and bring out your true hero
This is a thought provoking webinar with live question and answer sessions so you can directly apply your learnings to your business. Join our business growth specialist Steve Saunders for this interactive webinar for personal and professional development.
Book you place here & we will send you the zoom link
Looking forward to seeing you there!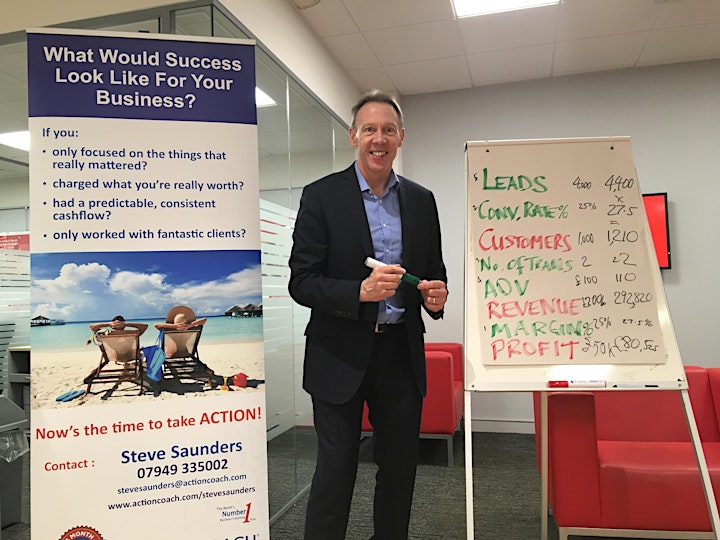 Organiser of Mental Resilience – Look after yourself, look after your business
What do Roger Federer, Sir Chris Hoy, Bill Gates and Oprah Winfrey all have in common? Well, they've all used coaches to help get the best out of themselves. If you want to be your best, I can help.
I focus on helping you gain the essential skills, tools and confidence to achieve the results you want and deserve by combining my own business knowledge and expertise, with ActionCOACH's proven business coaching system.

When we work together, I will help and guide you to:

1/ Grow your Profits – with tried and tested strategies, I know the profitability, cash flow and revenue of your business will improve under my guidance.

2/ Take control of Your Time – business owners I work with spend more time doing the things they really enjoy; with the people they care about most.

3/ Build stronger Teams – I ensure that the right Team members are in the right positions, in the right structure and heading in the right direction within your business.
It's not always easy to see the wood for the trees, but together we can clear away the right path and find new opportunities to grow a better business for yourself and your family.

Coaching is not for everyone, I ask myself three questions:
1/ Can I help you achieve your goals quicker with me, rather than without my help?
2/ Are the results we achieve going to create a lasting legacy?

3/ I'm deadly serious about getting results for you, but I'm also looking to have some fun along the way!
Successful sports and business people recognise that having a coach makes sense, so contact me today to get started.

email: stevesaunders@actioncoach.com or call: 07949 335002.