Mental Well being-Helping your business build better working environment
Sales Have Ended
Registrations are closed
Dear Attendee, Thank you for your interest in the Low Carbon SMEs Mental Wellbeing Webinar. The Registration for this Event has ended. For information on other forthcoming events or to register your interest, please email smelowcarbon@aston.ac.uk Kind Regards, Low Carbon SMEs
Sales Have Ended
Registrations are closed
Dear Attendee, Thank you for your interest in the Low Carbon SMEs Mental Wellbeing Webinar. The Registration for this Event has ended. For information on other forthcoming events or to register your interest, please email smelowcarbon@aston.ac.uk Kind Regards, Low Carbon SMEs
Mental Well being-Helping your business build better working environment
About this event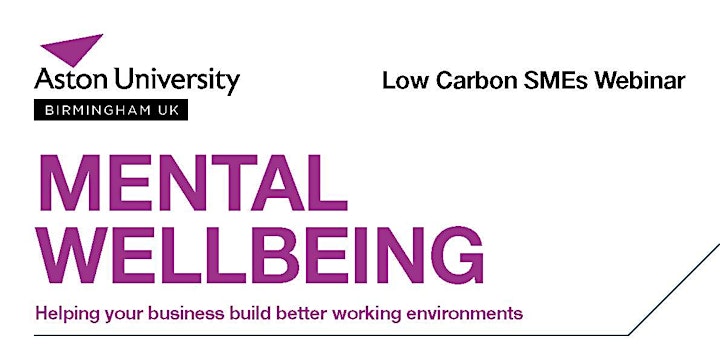 Low Carbon SMEs at Aston University invites you to Mental Well-being webinar. Helping your business build better working environment.
Agenda:
10:00AM : Welcome note & overview of Low Carbon SMEs Programme- Prasanta Dey- Professor- Aston Business School (ABS).
10:10AM : Employee well-being, mental health and productivity in Midlands firms: The employer perspective- Dr. Maria Wishart -University of Warwick.
10:30AM : Employee well-being and role of leadership- Pawan Budhwar- Professor, Work & Organisations- Aston University.
10:50AM : Mental well-being – Awareness, help available and how to seek it- Charlotte Hodivala- Co-founder Mindsafe, Sutton Coldfield Town Councillor (2016 – 2018).
11:10AM : Roundtable discussion, Tools and Resources.
11:25AM : Next steps - Jamal Lea-Project Manager- Low Carbon SMEs.
-----------------------------------------------------------------
Speakers:
- Prasanta Dey - Professor of Operations Management and Project Director for Low Carbon SMEs, Aston Business School. Prasanta has Master's in Industrial engineering and Doctoral degree in Production Engineering. He specialises in Low Carbon Supply Chain Management and Project Management. He has extensively published in the international refereed journals and accomplished several research projects funded by Ford Foundation, Research Council, UK, British Council, and West Midlands Manufacturing Advisory Services.
- Dr Maria Wishart - Research Fellow at the Enterprise Research Centre, Warwick University. Before coming to academia, Maria spent 17 years working in global consumer marketing roles in a number of UK-based companies. She holds a PhD in Identity and Ethics, and her current research interests include workplace mental health, business resilience and rural enterprise.
- Pawan Budhwar – Professor (Work & Organisations) and Head of Aston business School, Aston University. Pawan is the Joint Director of the Aston India Centre for Applied Research and Joint Co-Editor-in-Chief of British Journal of Management, Pawan is globally renowned for his research into the international aspects of HRM and has held many visiting professorships worldwide.
Pawan's research interests lie in the linkages between HRM and performance in different international contexts. He has examined HRM systems in emerging markets and established links with social, cultural, political and legal contexts, and this is increasingly being referenced by other researchers.
-Charlotte Hodivala is the co-founder of MindSafe and Member of Birmingham City Councils Children's Social Care and Scrutiny Committee and Sutton Coldfield Town Councillor (2016 – 2018).
MindSafe is a digital platform delivering online, digital mental well-being support to tens of thousands of children around the UK. With wide experience of new and existing organisations with a range of resources she has experience of many ways in which to implement wellbeing support and driving adoption of these services.
Charlotte is a Member of Birmingham City Councils Children's Social Care and Scrutiny Committee, she has extensive experience leading large patient centred projects in public and private sectors, re-designing services and pathways to meet users' needs in complex environments. She also led on establishing Sutton Coldfield Town Council, the largest of its kind in the UK in 2016.
-Jamal Lea is the Project Manager for the Low Carbon SMEs programme at Aston University. Jamal is an enthusiastic business sustainability and low-carbon practitioner with a successful track-record in delivering collaborative projects between academia and industry. Previous roles include Project Manager at the British Malaysian Chamber of Commerce; providing B2B support services to UK engineering and manufacturing SMEs seeking to do business in high growth markets. Jamal has also delivered one of Europe's largest domestic energy monitoring projects, in partnership with De Montfort University academics and emh Green Team, winning the KTP Regional East Midlands Energy Efficiency Retrofit Awards.
-----------------------------------------------------------------
Aston University's Low Carbon SMEs Programme supports energy-intensive industries to reduce their carbon footprint, energy costs and imp rove profitability. The project is part-funded by the European Regional Development Fund (ERDF) and is open to small & medium-sized enterprises (SMEs) in the Greater Birmingham & Solihull and Black Country regions.
 We provide: 
Access to energy efficiency capital grants (match-funded).
Free on-site energy efficiency survey.
Cutting-edge collaboration opportunities with Aston University.
 SME Eligibility:  
The company must employ less than 250 employees.
Have an annual turnover of not exceeding €50 million and/or an annual balance sheet not exceeding €43million.
Have received no more than €200,000 of de minimis State Aid in the past 3 years.
Contact us
If you have any questions, please email- smelowcarbon@aston.ac.uk. 
To know more about the programme, please visit-http://www.smelowcarbon.co.uk.
 This project is part-funded by the European Regional Development Fund.