Location
Holiday Inn Theatreland
161-165 West Nile Street
Glasgow
G1 2RL
United Kingdom
Description
This workshop is designed for mentors of junior or entry-level employees working in film or TV.
Aims:
To explain what mentoring is and how it can be used to encourage development

To clarify what is expected of a mentor and the skills needed to be effective in the role

To clarify how to help your mentee get the best from the experience
The session will cover: the scope and focus of mentoring activities; the difference between coaching and mentoring; defining and developing your mentoring relationship, and practical exercises in active listening and constructive feedback. We will also examine sensitive and ethical issues.
Sue Ahern (below) is the Training Director of Creative People, an international training and coaching consultancy which specialises in helping media business. Sue co-founded Creative People after a successful career as a programme maker: she has worked as a journalist, producer and series producer, and managed the Radio Training department for the BBC. At Creative People, Sue works mainly in the areas of management development and leadership, as well as improving individual and team performance. She is also a trained mediator.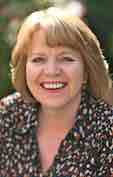 This is a workshop specifically designed for production companies who are either Pact members or who supply content to the BBC. We will need to remove you from the list if you are not able to verify the above.