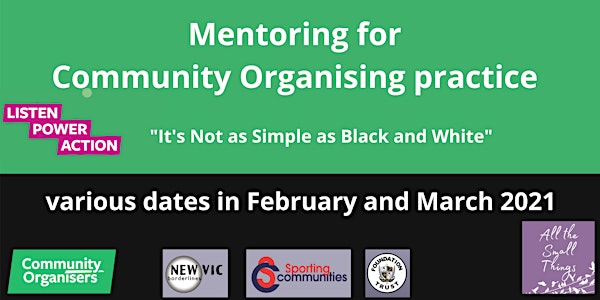 Mentoring conversation for Community Organising Practice
support to help you reflect and make progress in your Community Organising journey.
About this event
All the Small Things are pleased to invite you to book a 1:1 mentoring conversation with one of the Social Action Hub team. In your conversation, we will encourage you to
• reflect on the Community Organising framework
• talk about concerns and questions you would like help with
• identify your ideas for action and where you can get support
You are invited to take part if you have completed the Introduction to Community Organising course online with All the Small Things CiC.
We are able to offer these opportunities for reflective practice and action learning in support of the 'Race Hate and Faith' project with Sporting Communities CiC. Priority for places in the Mentoring groups will be given to people who took part in the courses funded by the project.
Organiser of Mentoring conversation for Community Organising Practice