Menzies Screening #1: Neo-colonial Footprints (Walk Into Paradise, 1956)

Tuesday, 17 October 2017 from 18:30 to 21:30 (BST)
Event Details
Following the 2016-17 seminar series Screening Australia, the Menzies Centre for Australian Studies presents the first in a series of screenings and discussions that takes a broad, critical approach to Australia's place within international film landscapes. From films of historical interest to those of topical importance, the Menzies Screenings series offers a curated selection that complements and expands upon some of the themes of the broader Menzies Centre programme.
Although Australia remains the central focus of the Menzies Screenings, this inaugural selection reflects the current seminar series theme, Scaling Australia, and seeks to push beyond the geographical boundaries of the Australian continent to consider how others view us, how we view others, and how we view ourselves in other spaces. Introduced with a particular critical and contextual focus by our resident film expert (and The Far Paradise editor) Stephen Morgan, each screening will be followed by refreshments, and a relaxed, salon-style discussion.
Our first session focuses on Australia's 'neo-colonial footprint', with a nod to Jane Landman's book The Tread of a White Man's Foot: Australian Pacific Colonialism and the Cinema, 1925-62 (2006), which examines mid-century Australia's cinematic interactions with its near neighbours.
Screening in this first session is Walk Into Paradise (d. Lee Robinson, 1956), which follows patrol officer Steve McAllister (Chips Rafferty) as he leads an expedition into the 'unmapped' highlands of Australian-administered New Guinea. Shot on location, and born out of Australia's foreign-dominated post-war production climate, Walk Into Paradise was the third feature collaboration between Robinson and Rafferty, and their first co-production with French company Discifilm. For Lee Robinson, such films produced 'something that was Australian within an international format', and alongside its depiction of wild savages, colonial control, and the exploitation of natural resources, Walk Into Paradise seeks to highlight the 'white man's burden' at the heart of Australia's neo-colonial influence on this 'final frontier'.
The full programme of 2017-18 Menzies Screenings will be announced soon.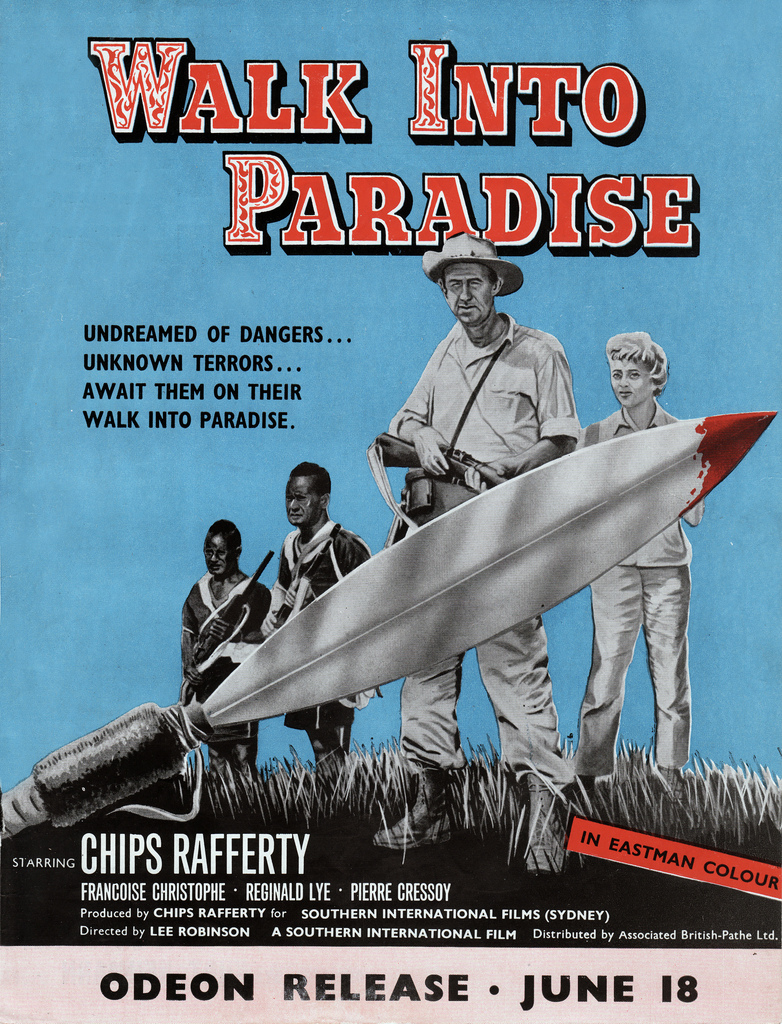 When & Where

Room S-2.23
King's College London
Strand
WC2R 2LS London
United Kingdom


Tuesday, 17 October 2017 from 18:30 to 21:30 (BST)
Add to my calendar
Organiser
The Menzies Centre for Australian Studies is the lead Australian studies centre in Europe, promoting an understanding of Australian history, society and culture throughout Britain and beyond.