About this Event
You will wear a mermaid tail and have a go at mermaid swimming as well! Be prepared to get wet and get some amazing fairytale-like photos.
You would be guided by a professional instructor, however you should be able to swim well.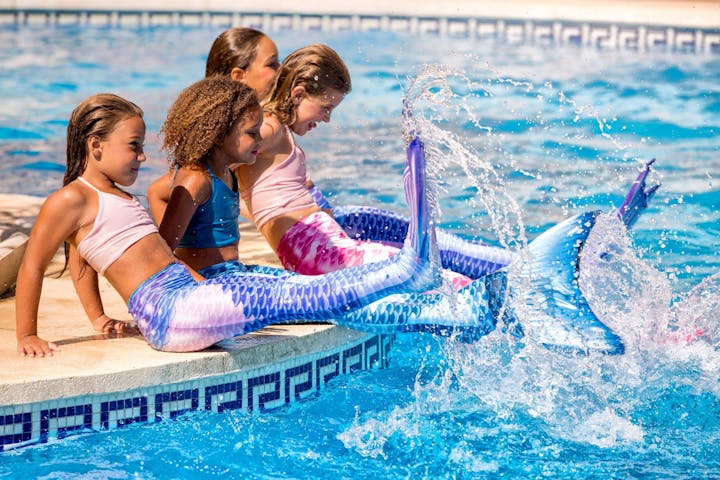 What to expect on the day?
1 hour instructor and all mermaid equipment, to include:
15 minute safety talk and demonstration how to use products
45 minutes of water activities that include the butterfly kick technique, syncro, water acrobatics, core strength, handstands and much more!
'Our promise to the Ocean' pledge
Safety is our main priority - you should be able to swim 25 metres, float on your back and should generally feel comfortable in water. Please watch the video below to ensure swimming ability requirements are met and take a look at the Mermaid Safety First information. (At the discretion of the instructor, should they feel this requirement has not been met, an adult will be required to accompany their child in the pool for the duration of the Experience.)
Please Note: Children aged 6 and under will need to be accompanied by an adult in the water.
FAQ for the day
Before going full-on-mermaid, ensure you are prepared.
Take towels, your swimming costume and everything else that you would normally take to the swimming pool
You will be provided with a mermaid tail for the Experience, however you are welcome to bring your own. Please note that for safety and insurance reasons, only Planet Mermaid Tails and Magic Fins can be used during this Experience
Do you have any questions at all? Just give us a call! 01234 352488 or email events@planetmermaid.com
Planet Mermaid tails and fins will be provided for the Experience, however if you would like to purchase your own in preparation for the Experience, a 10% discount code will be sent exclusively to you once the booking is confirmed.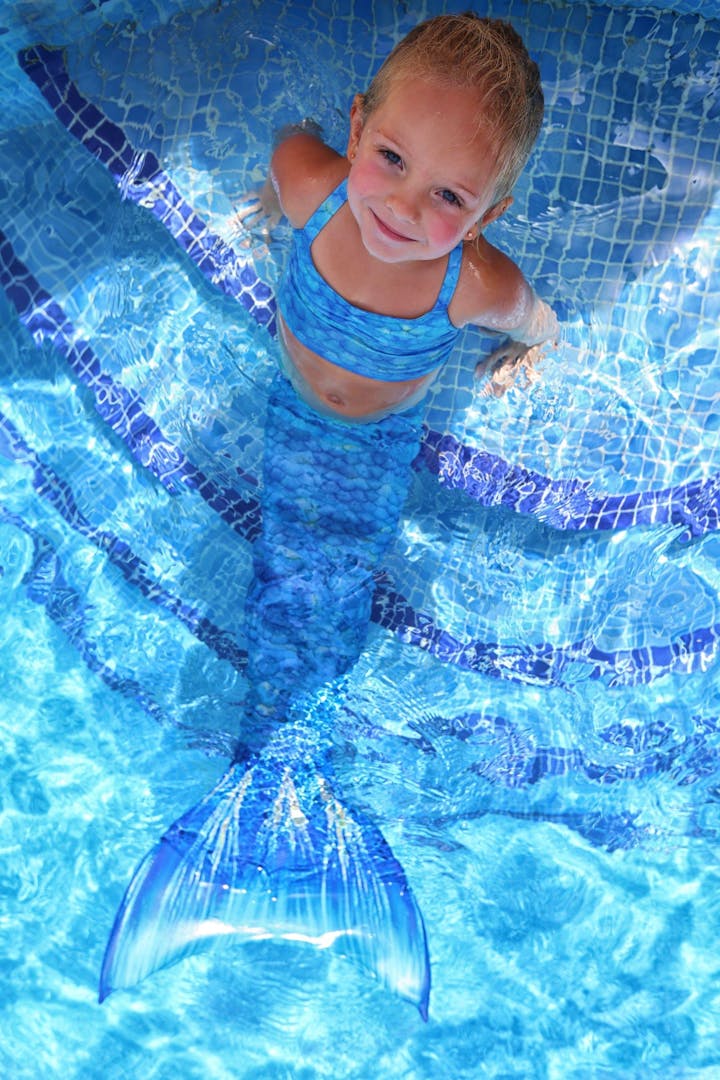 TERMS AND CONDITIONS – MERMAID WAVE EXPERIENCE SESSIONS
Please see the Terms & Conditions of your booking below. Please note by making payment you are agreeing to all terms and conditions.
Can I draw your attention to this brief summary, the participant must be able to swim and follow the swimming ability mentioned above. Failure to not watch the advertised video will void your booking confirmation and overall experience at the event. We will also be photographing participants at events and consider payment as confirmation that you are happy to comply.
1. All events must be paid for in full. No places can be reserved without payment.
2. Please note we reserve the right to amend venue and dates. However, adequate notice will be given in the event of any changes. We also reserve the right to cancel any forthcoming events and we will endeavour to provide as much notice as possible.
3. Mermaid Wave will provide the Tails and Magic Fins for all experience guests/children up to dress size 16. Please ensure adequate swimwear is worn as this will NOT be provided – swimming costume, bikini, swim shorts/trunks. If you wish to use your own tails and fin it will have to be Planet Mermaid items due to insurance purposes.
4. Once the payment has been processed for your Experience Day, you the customer may only cancel on the following terms:
• Over two weeks written notice before your experience date
• If choose to join an alternative date with Mermaid Wave within two weeks of your originally booked experience date
• Less than two weeks notice, no refund will be offered
5. Booking confirmation will be issued on payment.
6. No food or alcohol can be brought into the pool area, No exceptions can be made to this.
7. A compulsory safety briefing will take place at the beginning of each event before the swimming activities can proceed. This will be delivered by a certified swimming instructor. This will be followed by 45 minutes swimming activities in the pool.
8. Any non or weak swimmers must be notified to the swimming instructor prior to the event and a suitable adult must be available to accompany the child in the water.
9. If you or any of your guests require any additional support or specialist assistance, please advise the Mermaid Wave Booking Team and your selected location/venue within 14 days prior to the event. Failure to do so can impact the quality of the Experience booked.
10. Mermaid Wave accepts no responsibility for lost property or damage of property whist attending any events.
11. Your event booked with Mermaid Wave includes only one hour activity run by our staff.
12. You are responsible for your own safety, actions and behaviour on any part of the swimming pool property including the changing area. The certified swimming instructor has the right to discontinue the experience if they feel this is not being adhered to.
13. Mermaid Wave reserves the right to amend the activities and agenda at any time.
14. Maximum of three tickets per booking.
Medical Release Waiver
I hereby acknowledge that I 'the responsible adult' confirm the children/adults in my group are (is) physically fit and capable of participation in all recreational activities. I have advised all parents/group members to view the video that clearly states swimming expectations for all Mermaid Wave Activities. Any special needs of group members must be advised on booking*. I understand that if any group is not able to demonstrate the required abilities that this may result in not being able to participate and no refund will be available.
I certify that I am the parent or legal guardian for the group. I hereby give my permission for any supervisor, coach or other team administrator associated with the mermaid wave swim school to seek and give appropriate medical attention for our/my children/group/adults in the event of an accident, injury or illness.
Liability waiver
By registering me and/or my group with mermaid wave swim program, I agree to participate (or allow my children and family members to participate) and hereby release mermaid wave swim school, their officers, directors, employees, and agents, their directors, officers, agents, coaches and employees from liability for any injury that might occur to myself (or to my child(ren) and family/group members) while participating in the mermaid wave program.
I agree to indemnify and hold harmless the above mentioned organisations and/or individuals, their agents and/or employees, against and all liability for personal injury, including all injuries resulting in fatality to me, my child(ren) and/or other family members, or damage to my property, the property to my child(ren) and/or other family members, or both, while I (or my child(ren) or family/group members) participating in the mermaid wave school program.
Release to use photographs and video footage
I voluntarily and without compensation, allow mermaid wave swim school to have promotional photographs/video footage of any of the undersigned swimmers taken, displayed, used for social media and provided to carefully selected partners of its choosing for display. I hereby release, indemnifies and holds harmless mermaid wave swim school and each of its trustees, officers, members, coaches, personnel, volunteers and agents (together, the mermaid wave swim school parties) from any liability in connection with mermaid wave swim school's use of the photographs of swimmer(s) as set forth above.