About this Event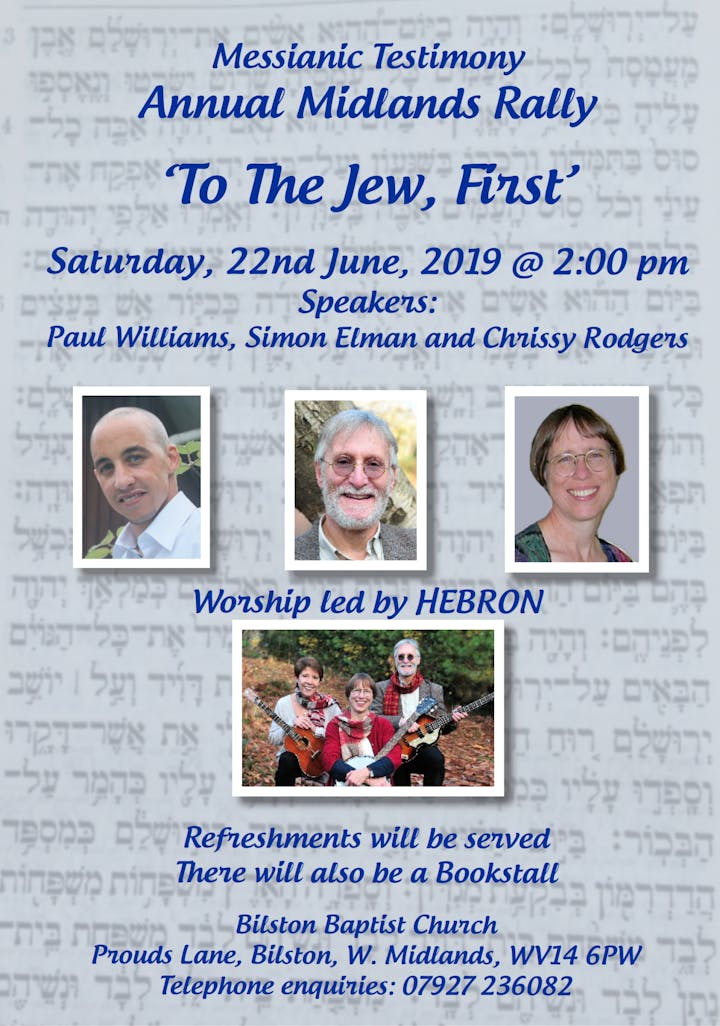 Messianic Testimony is a London based organisation that is dedicated to the furtherance of the gospel to Jewish people. This year, Messianic Testimony (MT) will be holding its Annual West Midlands Rally on Saturday, 22nd June, 2019 at Bilston Baptist Church, Prouds Lane. We would like to extend an invitation to you and encourage you to attend.
MT was founded by John Wilkinson in 1876, and is one of the oldest and longest-running Jewish Mission organizations in the UK and Europe. Mr. Wilkinson also earned the approbation and support of many well-known contemporaries of the faith in his generation. Stalwarts such as Charles Spurgeon, George Muller and Hudson Taylor, all greatly commended his unswerving efforts to reach the Jewish community.
Today, Messianic Testimony continues as a faith work, funded by the generosity of faithful believers. Its calling to reach Jewish people takes its workers and associates throughout the UK, France, South Africa, Germany and Israel.
As a FREE event, the meeting will include: vibrant praise and worship, presentations and reports by co-workers and a keynote address. Refreshments will be served afterwards and a book and free literature stall will be available for those who may wish to avail themselves of various items and publications. Attendees will also be able to subscribe to MT's free quarterly magazine.
The rally is a pivotal event which, historically, has brought many supporters of Jewish mission work together and serves as a platform to garner much needed exposure to the wider Body of Messiah Jesus.