Event Information
Refund policy
Refunds up to 7 days before event
Eventbrite's fee is nonrefundable.
Cyflwyniad i werth cymdeithasol - sesiwn hyfforddiant diwrnod / Introduction to social value - one day training programme
About this event
Please scroll down for English version
Cyflwyniad i Fesur a Rheoli Gwerth Cymdeithasol (cynhelir y sesiwn yma yn y Saesneg)
Mae ein gweithgareddau yn sicr yn creu effaith ehangach na rhai ariannol. Gall fod yn newid i lesiant ac iechyd pobl, cymunedau cryfach, neu leihau pwysau ar wasanaethau cyhoeddus, ac mae'r rhain yn ddeilliannau pwysig o'n gwaith. Fodd bynnag, anaml yr ydym yn mesur a chyfathrebu'r rhain yn fewnol ac i eraill mewn ffordd ddefnyddiol. Term eang felly yw gwerth cymdeithasol sydd yn cael ei ddefnyddio i ddangos gallwn gofnodi gwerth thu hwnt i rai ariannol.
Mi fydd y rhaglen diwrnod yma yn rhoi cyflwyniad cam wrth gam ac ymarferol i'r broses gwerth cymdeithasol ac Adenillion Cymdeithasol ar Fuddsoddiadau (SROI). Mi fyddwn yn dechrau gyda theori, ond yn defnyddio astudiaethau achos er mwyn gweithio drwy'r cwestiynau effaith ac adeiladu map gwerth.
Cynnwys Rhaglen
• Cyflwyniad i werth cymdeithasol
• Deall beth yw gwerth cymdeithasol
• Sut i fesur gwerth cymdeithasol
• Gweithio drwy'r deg cwestiwn effaith a fydd yn eich helpu i ddeall effaith eich gwaith
• Cyflwyno'r map gwerth
• Adnabod meincnodau, safonau a fframwaith deilliannau sydd yn bodoli yn barod
• Ymarferion ymarferol er mwyn sicrhau dealltwriaeth o sut i fesur gwerth cymdeithasol gweithgareddau eich mudiad gan gynnwys mapio rhanddeiliaid a mapio theori o newid
• Cyflwyniad i reoli gwerth cymdeithasol gan gynnwys cyflwyniad i'r 'toolkit' ar gyfer mudiadau
• Sut i ddefnyddio data i facsimeiddio eich effaith gymdeithasol
Introduction to Measuring and Managing Social Value (This session will be held in English)
Our activities undoubtedly create impacts other than financial returns. Whether it is changes to people's health and wellbeing, strengthened communities, or reducing the pressure on public services, these are important outcomes of our work. Yet, we rarely measure these impacts and communicate them for ourselves and others in a way that is meaningful and helpful. Social value is therefore a broad term that is used to illustrate that we can capture value beyond just financial returns.
This one day training programme provides a practical, step-by-step introduction to the Social Value and SROI process. We will begin with some theory, but by using real life examples we will work through the impact questions and build your own value map.
Programme Content
• Introduction to social value
• Understanding what social value is
• How to measure social value
• Work through the ten impact questions that can help you to understand the impact of your work
• Introduce the value map
• Identification of existing benchmarks, standards and outcomes frameworks
• Practical exercises to facilitate understanding on how to measure the social value of your organisation's activities, including mapping stakeholders & mapping the theory of change
• Introduction to managing social value including an introduction to the toolkit for organisations
• How to use data to maximise your social impact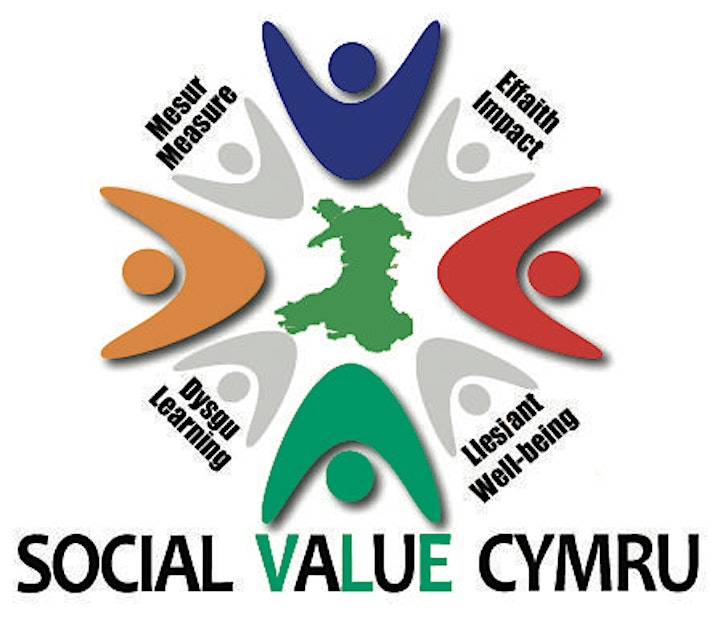 Date and time
Location
Refund policy
Refunds up to 7 days before event
Eventbrite's fee is nonrefundable.
Organiser of Mesur a Rheoli Gwerth Cymdeithasol / Measuring and Managing Social Value