Metadata for Beginners - Half-Day Training Course

Wednesday, 29 June 2016 from 13:45 to 17:00 (BST)
Event Details
Metadata for Beginners 
This half-day training course is aimed at anyone in the book industry who is involved with bibliographic data in the supply chain. It is especially relevant for delegates that are in need of a better understanding about bibliographic data and the role it plays in the commercial success of a book - for this reason it is particularly well-suited to individuals at a beginner's level. This training course aims to demystify metadata - a subject that is often regarded as technical and complicated.

COURSE LEVEL:
Whether you're a new-starter in the industry, you've changed jobs in-house or you've been in publishing 'forever', this course goes back to the very basics. The course content is not technical and requires no prior knowledge of metadata; for this reason it would not be recommended for someone who already has a good / intermediate grasp of metadata and ONIX since it truly is aimed at those with no prior knowledge.

The course is relevant to those working in Editorial, Sales, Marketing, Production and IT.
You will learn about:
The definition of metadata

What information makes up metadata?

Who is responsible for metadata in a publishing house?

What are the different formats used to capture metadata?

Metadata for print and e-books

The importance of publisher metadata

Who are metadata end-users?

Metadata management

What are industry standards and why should publishers strive to meet them?

What is a data aggregator and who are the main players?

The life-cycle of metadata - where does book metadata go after it leaves the publisher?

Why is metadata crucial to the commercial success of a book?

How can poor metadata hinder sales?
To read the course outline, click here. 
Please note: travel and accommodation costs are not included in the ticket price.

THE TRAINER
Simon Edwards has worked in the book industry for over twenty-five years as a library supplier, publisher and retailer. After spells with WHSmith and Whitaker, he became a freelance consultant and worked for the likes of BIC, The Bookseller, the BA, IBS Bookmaster, Macmillan, Nielsen, PubEasy and Vista undertaking a wide range of research, training, marketing and systems design projects. For BIC, over the past ten years, Simon has been involved in the e4books and e4libraries projects and authored many of BIC's guides and reports on supply chain matters. As a BIC consultant, Simon is now involved with the development of BIC and he chairs the BIC Technical Implementation Clinics for both trade and libraries.

THE VENUE
Faber Creative Spaces
Bloomsbury House
74-77 Great Russell Street
London
WC1B 3DA
Located on the fourth floor of Faber. Each Faber Creative Space comes with excellent technical facilities, including WiFi and audio-visual equipment.The intimacy of the Academy Space, with its archive of reference, fiction and poetry books and decor that nods to Faber's history, is perfect for creative meetings, training sessions and away days.
Faber Creative Spaces are accessible via excellent transport links and a lift to the fourth floor.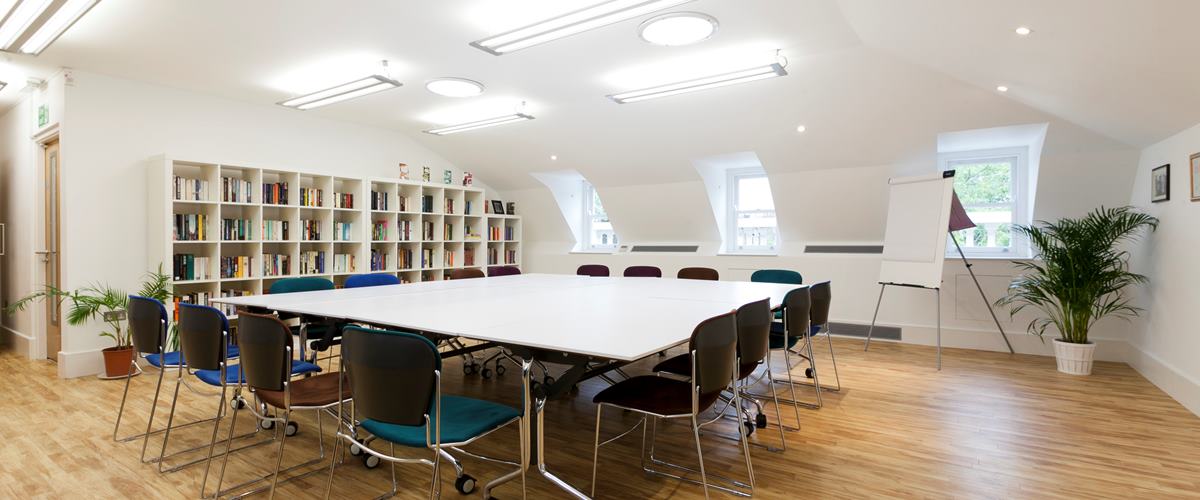 WIFI ACCESS
A password will be provided on the day to delegates.
ON THE DAY
Please note that lunch is only provided for full-day training courses. Half-day course delegates will be provided with refreshments. 
TRAVEL INFORMATION
Tube / Rail station:
Holborn, Tottenham Court Road, Russell Square
www.journeyplanner.tfl.gov.uk / www.nationalrail.co.uk 
Airports:
London City Airport – 9 miles, ca 20 min by car
Heathrow – 20miles, ca 30 min by car
Luton – 33 miles, ca 50 min by car
Stansted – 36 miles, ca 50 min by car
Gatwick – 32 miles, ca 60 min by car
Car parks:
Bloomsbury Square Carpark (approx 3 min walk)
http://secure-parking.co.uk/DisplayCarPark.aspx?carparkid=4 
Conquer Publishing Discoverability with BIC
BookMachine have teamed up with BIC to make sure that everyone who takes a BIC training course can be discovered quickly on BookMachine Connect. The courses are taught by experts in their field and teach all the core skills that those working in the publishing supply chain need to make a success of their careers. Find out more here: http://www.bic.org.uk/143/Conquer-Publishing-Discoverability-with-BIC/
Discounted rates apply to BIC members only.
Not sure if your organisation is a BIC member? Check our members list here.
Simon Edwards

Consultant



When & Where

Faber Creative Spaces
Bloomsbury House
74-77 Great Russell Street
WC1B 3DA London
United Kingdom


Wednesday, 29 June 2016 from 13:45 to 17:00 (BST)
Add to my calendar
Organiser
Book Industry Communication
BIC is an independent organisation set up and sponsored by the Publishers Association, Booksellers Association, the Chartered Institute of Library and Information Professionals and the British Library to promote supply chain efficiency in all sectors of the book world through e-commerce and the application of best practice, standard processes and procedures. We have excellent relationships with all major standards bodies and we work closely with the Book Industry Study Group in the US.

BIC unites all sectors of the publishing industry, so whether you're a publisher, on-line retailer, "bricks & mortar" retailer, distributor, library (academic or public), wholesaler, digital partner, literary agent, conversion house, or any combination of these, we're here for you. We offer a "one stop shop" experience, impartial advice and support on anything & everything related to the Supply Chain (digital and/or physical) and we always love to hear from our members...and anyone who might like to become a member. Your feedback is invaluable to us.

We want to hear your ideas, what you're working on, what's challenging you right now, and what changes/developments/projects etc you think the industry might benefit from - so that we can work on your behalf to deliver solutions.

Finally, as an FYI: without neglecting the printed book world, BIC will now be focussing an increasing amount of its energy on work in the Digital Supply Chain.
Specialties
Digital & Physical Supply Chain, EDI/e-commerce, Metadata optimisation, Training courses, Industry Accreditation Schemes, Product Identifiers/Bar codes/ISBNs etc..., ONIX, Bibliographic standards, RFID, BIC Codes, Web Services, Addressing industry needs, Best practice
Metadata for Beginners - Half-Day Training Course