Metamorphosis Women's Conference 2021! Arise woman! Change starts with you. It's time to light your fire and change your world.
About this event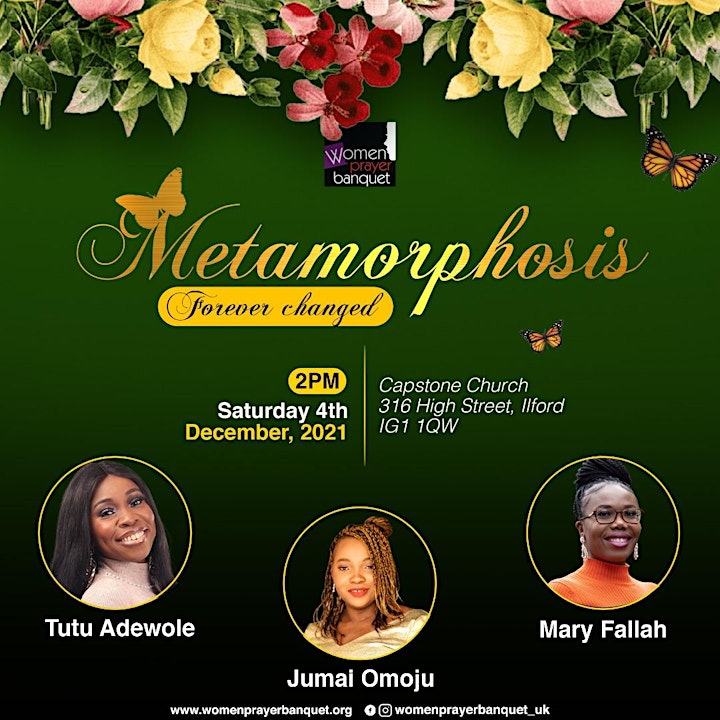 The Women Prayer Banquet presents Metamorphosis Women's conference 2021.
Theme : Forever Changed
But you shall receive power when the Holy Spirit has come upon you;
-Acts 1:8 NKJV
When you own your life, you run it with your blood, when He owns your life...you run it with His blood. With His blood comes the fire... the power...the help of the Holy Spirit.
Metamorphosis 2021 is for that woman who is in need of a change in the status quo, who needs fresh passion, fresh fire, fresh vision, ....come get ignited for a lifetime through the ministration of undiluted word of God and His Spirit!
Join women of purpose and passion for a time of impartation in God's Presence. Your life will never remain the same!
Saturday the 4th of December 2021 is a day to remember for a long time. Come along and bring every woman in your circle.
Time : 2pm
venue : Capstone Church Sanctuary
316 High street, Ilford. IG1 1QW
Closest station is Ilford Station
Parking:
Lidl Carpark -2 minutes walk from the venue
£1.60 for 3 hours
£3.50 for 6 hours
Dresscode : Green
contact us on
email : ukwpbanquet@gmail.com
Follow us on Instagram @womenprayerbanquet_uk
And on our website https://womenprayerbanquet.org