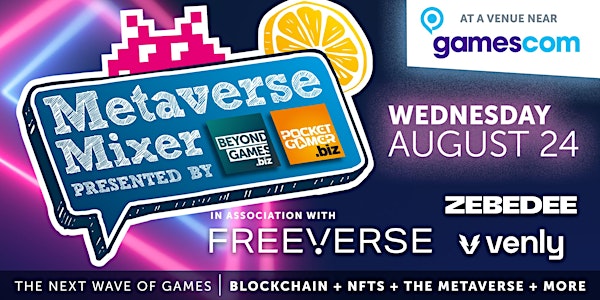 Metaverse Mixer: presented by BeyondGames.biz & PocketGamer.biz
Location
Hyatt Regency Cologne
Kennedy-Ufer 2A
50679 Cologne
Germany
The next wave of games - blockchain, NFTs, the metaverse and more. Brought to you by the leading b2b games websites
About this event

Let's have some drinks and chat with some metaverse experts in an elegant environment not far from Gamescom's hustle and bustle.
How will blockchain and the metaverse change the games industry forever? Everybody's talking about the next generation of games and online entertainment opportunities. Whether it's how we evolve meaningful online communities to how play-to-earn models might disrupt the mobile gaming space, topics like this are everywhere.
Steel Media is the publisher of PocketGamer.biz, BlockchainGamer.biz and BeyondGames. biz. Along with our partners at Freeverse, Zebedee and Venly, we bring you a free opportunity for some relaxed drinks and an insightful chat with experts about what this new frontier offers for game developers.
This event is intended for developers and publishers.

Join us for knowledge sharing and informal networking
After a busy day in Cologne on Wednesday, 24th August, come to the grand Hyatt Regency Cologne near the river and join us for a few hours of networking and discovery.
Your provisional schedule
18:00 - Join us at the Hyatt Regency Cologne hotel
18:30 - Take your seats for the presentation and panel! BeyondGames.biz editor Daniel Griffiths will be charing a discussion on this topic: "How do we get the mainstream to embrace the Metaverse?" His guests include Alun Evans (Freeverse), Ben Cousens (Zebedee), Mattias Debbaut (Venly) and Kelly Vero (Core Games).
20:15 - Networking and drinks
22:00 - Doors close
Your hosts for the evening...
This mixer is hosted by the Steel Media team, who have many years of experience covering and connecting the games industry with leading media like PocketGamer.com and PG.biz, events such as the PG Connects conference series, Big Indie Pitches, and numerous parties.
Our latest sites are BeyondGames.biz and BlockchainGamer.biz, covering all aspects of the metaverse, web3, transmedia, NFT gaming, and the future business of entertainment.
If you'd like to discuss sponsorship, please contact Chris James on chris@steelmedia.co.uk
We will also have a whole team of people out in Cologne during Devcom and Gamescom, including editorial staff. So if you'd like to book an appointment with any of us, perhaps to show us your latest game or find out how to be a part of our upcoming conference schedule, please fill in the form here, and we'll get back to you. Indie developers may like to participate in the Big Indie Pitch (separate application required) on Wednesday 24 August too.
Brought to you by our partners...

The principal mission of FREEVERSE is to create Living Assets, the NFT 2.0 platform that will power the next-generation digital industry and reach the mainstream user. Living Assets represent unique digital assets that change or evolve, and can be created and traded at a scale and cost to reach the mainstream. They are to NFT 1.0 digital collectables what videogames are to stamp collections. Living Assets enable content creators to truly engage with their audiences. And, of course, you can also create standard, immutable NFTs with Freeverse. Living Assets can be traded in fiat currency, thus permitting users to enjoy the benefit of true digital ownership in a seamless way - without even realizing the power of the underlying blockchain that makes this dream come true. Find out more at freeverse.io.

ZEBEDEE powers real economies in virtual worlds. With ZEBEDEE, gaming becomes a meaningful economic activity, and game devs get a new playground for weaving money into the worlds they create. The economies of the future will be a perfectly connected system of real-world and virtual-world activity. Virtual activity will represent the majority of this metaverse economy, and games are where the revolution starts. ZEBEDEE is creating the tools and products that make it possible. Find out more at zebedee.io.

Venly is a blockchain technology provider, offering digital wallets to store assets with a native solution that also works on mobile devices. The company also recently launched the Venly Market as the first-ever peer-to-peer and blockchain-agnostic NFT marketplace. With Venly's NFT tools, blockchain games, projects, and decentralized applications can tap into an entirely new revenue stream without having experience in blockchain engineering or a complex regulatory framework. Venly's vision is to build both developer-friendly products and an intuitive interface for end-users. Find out more at venly.io.