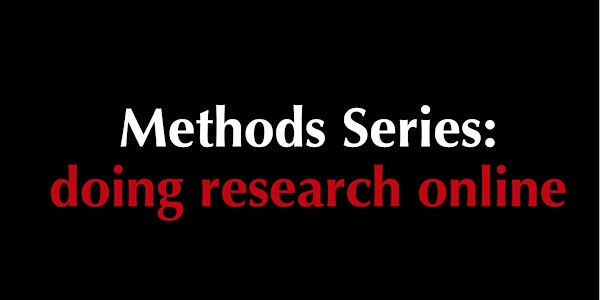 Methods online:Taylor Annabell on 'Digital memory work on social media'
The Methods online series is being organised by PhD students at KCL to present and discuss ways of doing research online.
About this event
Many of us PhD students are researching and developing methods to suit our thesis projects; for some of us online formats are becoming a bigger part of our work in the pandemic. Some of us from DDH and CMCI at KCL have come together to organise a Methods Series on 'doing research online' for PhD students. This series of methods sessions is a way to draw on resources we have amongst ourselves to solve issues we are facing in our ( solitary) research.
We are thrilled to announce the first session in this series led by Taylor Annabell.
21st October, 12-1 pm
Taylor Annabell talks about "Exploring digital memory work: a methodological journey"
Description: During this session, I will reflect on the choice of methods employed in my PhD research, which examines the performances of digital memory work on social media platforms from the perspective that agency is distributed between human and non-human memory actors. I will briefly discuss my approach to ethnographic observations of Facebook and Instagram activities, use of the scroll-back method during interviews (both on and offline) and form of platform analysis. I will also outline how I collect digital traces from specific users on Instagram and Facebook whom I gained informed consent from and the practicalities surrounding storing, labelling and managing this data.
Link: This is an online event so please register on Evenbrite and we will share the link for this virtual meeting before the meeting.
Useful/ suggested readings:
Robards, B. and Lincoln, S., 2017. Uncovering longitudinal life narratives: Scrolling back on Facebook. Qualitative Research, 17(6), pp.715-730.
boyd, d., 2015. Making sense of teen life: Strategies for capturing ethnographic data in a networked era. Digital research confidential: The secrets of studying behavior online, pp.79-102.
Van Dijck, J., 2013. Disassembling Platforms, Reassembling Sociality in The culture of connectivity: A critical history of social media. Oxford University Press. (ch 2)
Light, B., Burgess, J. and Duguay, S., 2018. The walkthrough method: An approach to the study of apps. New media & society, 20(3), pp.881-900.
We look forward to discussing doing research online with you!
Thank you,
- Methods online team- Taylor, Myriam, Rianna, Kat, Andong and Nayana