Multiple Dates
Methods Workshop: Digitising David Jones–Jim Ede correspondence (using TEI)
A CDH Methods Workshop teaching participants to encode manuscript letters in TEI (Text Encoding Initiative).
About this event
Digitising the David Jones-Jim Ede correspondence using the Text Encoding Initiative (TEI)
In June 2021, work will begin to digitise and create an open-access digital edition of the letters of the poet, artist and First World War veteran David Jones to his patron Jim Ede, founder of the Kettle's Yard Museum.
Building on the growing interest in Jones as an undiscovered Modernist, and the increasing need for researchers to be digital-aware, we are pleased to offer the Cambridge University research community the opportunity to participate in this exciting project.
The friendship of the artist and writer David Jones and Harold Stanley ("Jim") Ede (1895–1990) is a unique example of the relationship between artist and patron in the Modernist period.
As well as financial support, Ede helped many artists elucidate the ideas underlying their work — an effort recorded in his extensive correspondence with and criticism of artists. However, the correspondence of Ede and Jones records a special affinity: both painters, Ede and Jones, served in the First World War, shared connections with Wales, and had a profound thirst to understand the role that art plays in spiritual life.
In addition to featuring Jones' most candid discussions of his artistic philosophy and its underlying spiritual vision, the letters (spanning the years 1927–1971 and contained, in their entirety, in the archive at Kettle's Yard Museum) are crucial to our understanding of Jones' place in the network of Modernist artists and writers.
They offer unique insights into the place of artistic practice in response to trauma; nationalism between the wars; and the role of art to bring about fulfilment in a secular world.
Methods Workshop:
Limited places are available to attend an intensive, five-day workshop from 21–25 June 2021. Participants will gain expertise in encoding manuscript letters in TEI (Text Encoding Initiative) and work on the mark-up of five pages of manuscript material, which will be displayed in the open-access Cambridge Digital Library. In addition, participants will receive due credit for their work as "assistant editors" in the more extensive David Jones Digital Archive (DJDA).
The event will include lectures by Jones scholars, Anna Svendsen (The David Jones Research Center) and Thomas Berenato (University of Virginia), and a virtual tour of the Kettle's Yard House with Eliza Spindel. The workshop will be led by Huw Jones from the Digital Library Unit at Cambridge University Library.
All sessions will take place online. Before booking, please ensure that you are available to attend all sessions. Should you not wish to do the encoding element, we are offering the first and last sessions separately. Please see that event listing here.
The programme:
Monday, 21 June 2021
Live session 1: 9.00am – 1.00pm
An Introduction to David Jones and the Ede-Jones correspondence at the Kettle's Yard Archive with Jones scholars, Tom Berenato and Anna Svendsen, followed by a Virtual Tour of the Kettle's Yard House with Eliza Spindel.
Live session 2: 2.00pm – 5.00pm
An Introduction to the Text Encoding Initiative with Huw Jones, from Cambridge University Library
 / CDH.
Tuesday, 22 June – Thursday, 24 June 2021
Individual work on transcriptions, with the opportunity to attend regular drop-in sessions for troubleshooting and questions

.
Friday, 25 June 2021
Live session 1: 9.00am – 1.00pm
Group reflection on the challenges of transcribing Jones's Letters chaired by Laura McCormick Kilbride
Live session 2: 2.00pm – 5.00pm
Archive switch-on and public Q&A session with project leaders 
about the David Jones Digital Archive.
Image: Headpiece for 'Rimes of the Ancient Mariner' (The Harbour), 1928
Print [DJ 34], Reserve Collection, Engraving on paper, 44 x 74 mm
The project is being funded by the Cambridge Humanities Research Grant Scheme and the U.S.-based David Jones Research Center.
In collaboration with: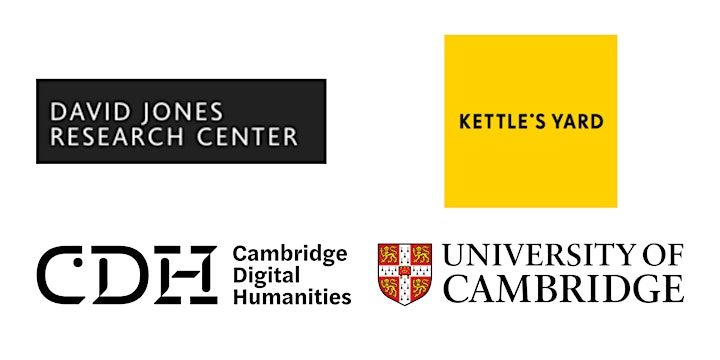 Organiser of Methods Workshop: Digitising David Jones–Jim Ede correspondence (using TEI)