Mexican Vegan Street Food Pop-up Party

Friday, November 2, 2012 from 6:00 PM to 8:30 PM (GMT)
Event Details
¿ESTÁN LISTOS?
London, be prepared.
Following on from the success of his vegan pizza party and Spanish tapas evening, Fat Gay Vegan is bringing you the food event to end them all. Get ready for the Mexican Vegan Street Food Pop-up Party.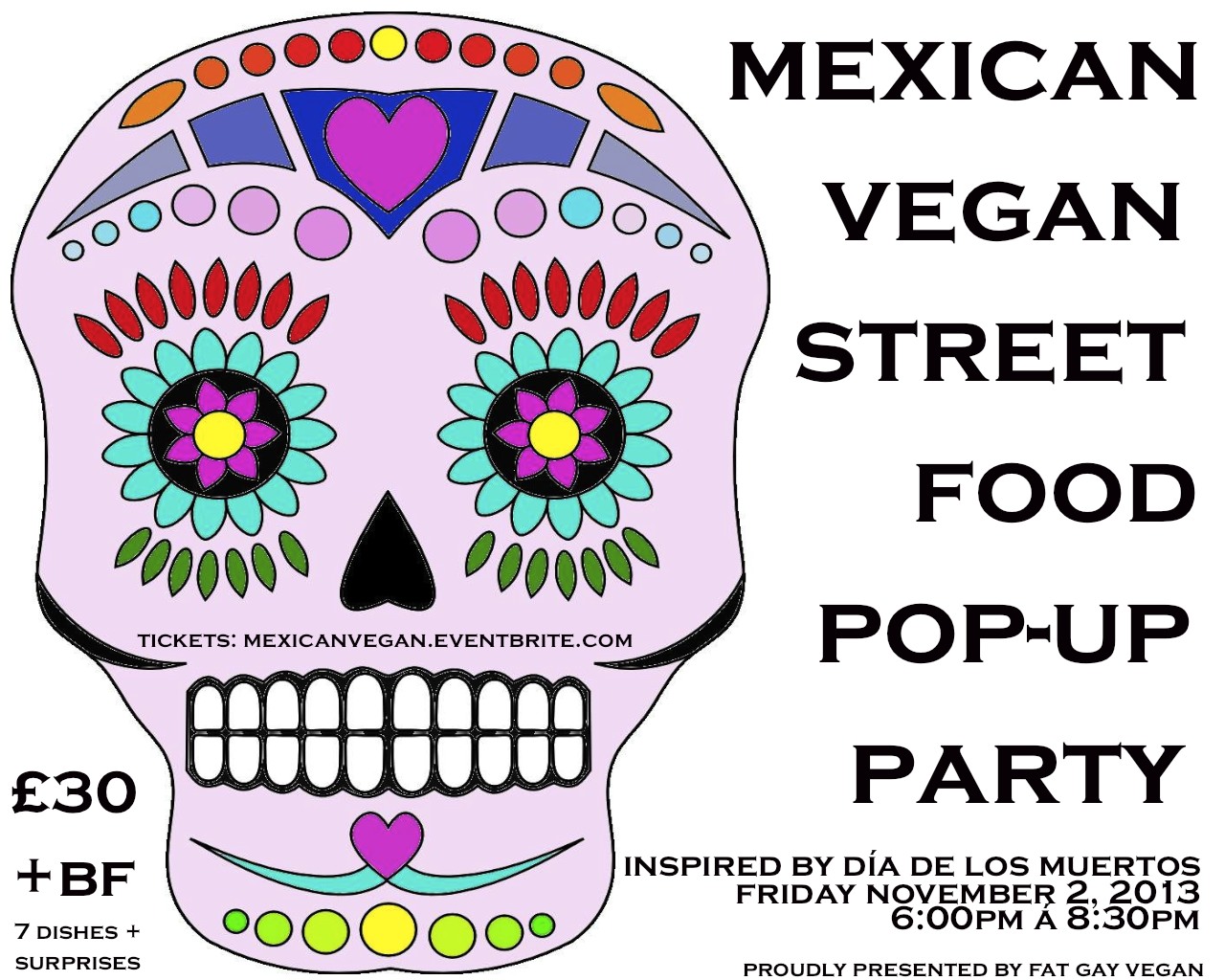 Inspired by his love of Mexico and the wonder of día de los muertos (Day of the Dead) celebrations, FGV is creating a one off event that you will have a hard time forgetting.
7 mini courses of vegan street food will be served as you revel in the surrounds of a decorated room furnished with party supplies sourced from the streets of Mexico City. Sumptuous visuals will be projected to satisfy your senses as Mexican pop music fills the air.
In addition to Mexican-inspired snacks, you will be served:
Esquites (seasoned hot sweetcorn)
Bean soup
Papas (potato)
Taquitos (crispy fried tortillas with savoury filling)
Jackfruit tacos
Churros (sugar & cinnamon hot pastry dessert)
Mexican hot chocolate
If you are keen to feast on Mexican-inspired street cuisine and have a glimpse into the culture as viewed by FGV, you should waste no time in snapping up a ticket now.
*Tickets are sold on a strict no refund policy
**The event will take place in Central London near Holborn. Announced only to ticket buyers
***You will be allowed to bring your own vegan alcohol. Corona is vegan & has Mexican origins!
****The menu MIGHT change closer to the event
Organizer
Fat Gay Vegan
Fat Gay Vegan. Vegan blog. Vegan events. Vegan PR.