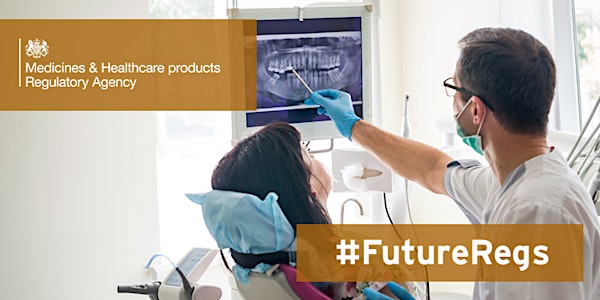 MHRA consultation on future medical devices regulation in the UK - Industry
MHRA webinar - consulting on the future of medical device regulations in the United Kingdom, aimed at the medical devices sector.
About this event
NOTICE
This webinar has sold out. We have extended the waiting list for you to register, should a space become available. You will be notified once we can confirm availability. Should you be unable to attend, the webinar will be recorded, and we will share the video recording once it becomes available.
The Medicines and Healthcare products Regulatory Agency (MHRA) invites members of the medical devices sector, to hear more about its consultation on how medical devices will be regulated across the United Kingdom (UK) in the future. The webinar will be held on Tuesday, 5 October 2021 from 10:30 until 11:30 (BST).
The MHRA is the regulator for medical devices used in the UK, and is working to create a world-leading regime for medical devices that prioritises patient safety while fostering innovation. This is a valuable opportunity to help shape this regime and change people's experiences with medical devices for the better.
This webinar is a chance to hear more about this consultation, what it covers and how to respond. It is one of two webinars on this topic. On 14 October 2021, another webinar aimed at the wider public, including patients has been scheduled.
You can read more about the medical devices consultation here.
Programme:
The webinar will outline the following:
Background to the consultation, including how the need for reviewing the regulations has arisen
Purpose and scope of the consultation
How to respond to the consultation
Q & A
There will also be a chance to raise any questions about what the consultation is asking and how to respond. Please note it will be an opportunity to clarify what is being asked, rather than discuss views on responses to consultation questions. On registration, participants will be able to submit questions in advance of the webinar.
Who is the webinar targeted at?
The webinar is open to anyone involved in the medical devices sector, including those researching, developing, distributing and using medical devices. This includes health professionals, manufacturers, importers, distributors and their representative bodies.
Frequently Asked Questions
Registration:
Please note that registration has sold out. You may sign up for the waiting list in the meantime. For further queries, please email: conferences@mhra.gov.uk
Register button: if you cannot click on this button, please try to use web browsers such as 'Google Chrome', or 'MS Edge', instead of 'Internet Explorer'.
Pre-submitted questions:
Should you wish to submit a question after you have already registered, please email: futuredevicesregulations@mhra.gov.uk
When will I receive details of how to join the webinar?
Once your registration is confirmed, further joining instructions will be emailed at least 48 hours before the webinar is scheduled to take place.
Will the session be recorded and made available later?
Recordings of the presentation, excluding the Q&A session will be released post-event.
Access requirements:
We want you to be able to access and observe the session. If you have any access requirements, please let us know when registering.
How do I cancel my attendance if my plans change?
Email conferences@MHRA.gov.uk with the email address you used to register attendance and we will cancel your booking.
Get in touch:
If you have any further queries related to this medical device regulation consultation and this webinar, please do get in touch by emailing futuredevicesregulations@mhra.gov.uk
Data Protection
The Medicines and Healthcare products Regulatory Agency will use the information you have provided via the third-party data processor Eventbrite, to facilitate the event and provide you with an acceptable level of service. Any access requirements will be processed internally and will not be shared in any identifiable way with third-party organisations. We will contact you using the information provided for the purpose of this event.
By providing the information you agree to the data being processed and stored as outlined.
To find out how we use and manage your personal data please visit the MHRA Privacy Notice.
Mailing List
To hear about future Medicines and Healthcare products Regulatory Agency events, please click here to be redirected to the Agency's website where you can subscribe to receive event alerts.
Organiser of MHRA consultation on future medical devices regulation in the UK - Industry