Description
My Identity In Christ Church also known as (M.I.C) is moving to a new venue for a fresh start, so come and celebrate with us
Theme: New Move, New Chapter
Do You Love To Worhsip?

Do You Love To Sing & Dance?

Would You Like To Mingle And Connect With New People Of Like Mind In The Presence Of The Lord
If you've said "YES", then this is a must attend event

We see you as a valid friend of the ministry hence why you are receiving this invite, so do come and celebrate this new move and new begining with us :-)
Seating is limited to 40 people so please do register as confirmation of your attendance
Access To Venue:
Step One:
When you arrive at bentham house, you will see a conceirge. Please register at the reception desk, then walk towards the lift.
Step Two:
When inside the lift press the (M) buttom which will take you to the Maudsley Suite which is where we are
Direction By Train:
The venue is 5minutes walk from Woolwich Arsenal station. One of the land marks to look out for is Mark And Spencers
Direction By Car:
If you are driving take the left turning after the Stephen James Bmw Car Show Room, then take the first left and that will bring you to the front of the venue which is Bentham House.
The car park is next door to bentham house
Your Host: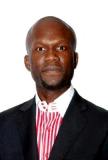 Pastor Seyi Eyitayo is the Senior Pastor and Founder of My Identity In Christ Church also known as (M.I.C), which is a non denominational church located in east croydon south london.
Pastor Seyi Eyitayo is passionate about seeing God people walk in their Identity in christ, Discover and fulfill God's purpose for their lives, and build purposeful relationships based on the principles of God word
There will be Opportunities to meet and mingle with new people and network with like minded christians
You are in for a great time of fun, laughter and inspiration in the presence of God so make sure you invite your friends also
This event is going to packed full of Praise And Worship, an Inspirational messages
You Don't Want To MISS This!