Description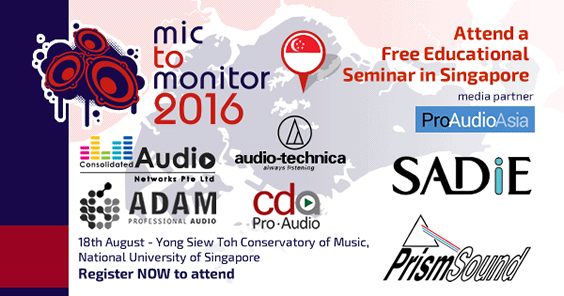 Mic to Monitor Singapore
18th August 2016
Join us at a FREE seminar that delivers key insights into modern day recording, mixing and mastering techniques.
How do the pros do it?
What makes great gear great?
How is that hit sound achieved?
What does it take to become a successful and in demand engineer?
Prism Sound is delighted to be running this FREE seminar at the Yong Siew Toh Conservatory of Music, Singapore alongside fellow leading manufacturers, SADiE, Adam Audio, Audio Technica as well as our VIP guest speaker, international producer Roland Lim.
Each seminar features presentations from recording professionals who will answer audience questions on recording techniques. Learn about audio hardware design, get the best out of your studio and talk to our VIP guest speaker as they personally take you through their mixes and reveal their tips and tricks to achieve their acclaimed, signature sound.