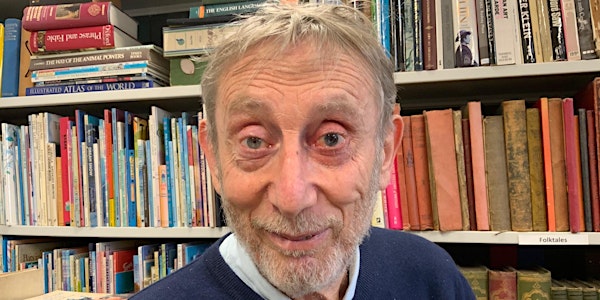 Michael Rosen's HMD Poetry Evening - Refugee Fundraiser!
Please join Michael Rosen for a special poetry reading of his poems as our HMD Poet in Residence. All welcome. FREE. Refugee fundraiser!
About this event
Talk: 8pm to 8.45pm Michael Rosen performs his poems and prose pieces about his journey to find his relatives murdered in the Holocaust . Also his poetry readings will feature poems from his award winning poetry collection 'On the Move' reflecting on the experiences of migrants and refugees, those who experience war and genocides, race hate and prejudice. Followed by conversation: 8.45pm to 9.15pm Q&A
All are welcome and there will be a Q&A at the end. It is a free event and we ask only for charity donations for Cambridge 's Refugee Hardship fund (info below on how to donate) & please donate £5 to £15 if you can, depending on your circumstances eg via:
https://www.facebook.com/donate/328734635776274/
Please help us fundraise for a special poetry night on the 26th January, the eve of our marking Holocaust Memorial Day itself with our Poet in Residence for HMD, Michael Rosen, partnering with our HMD project with Cambridge City Council for educational work in schools. Our poetry event will be an online LIVE zoom event, with registered participants sent the link to the event by 6pm so you are ready to join in promptly at 8pm!
Told through poetry and some prose pieces, this is the true story of Michael Rosen's search for his relatives who 'went missing' during the Second World War. When Michael was growing up, there were family stories about his paternal great-uncles, Oscar and Martin, who moved to France from Poland and then disappeared during the war.
Over many years, Michael tried to find out exactly what happened. "No one in my family knew anything about them, and this frustrated me beyond words. It meant the Nazis has succeeded. And the last thing I wanted was for them to have won" he writes.
The story he uncovered starting with fragments and memories is one of persecution and tragedy. Out of it he has found a way to talk to children about the Holocaust. Michael Rosen is working with schools in Cambridge, as Poet in Residence at HistoryWorks, together with Professor Helen Weinstein reaching thousands of children with their Holocaust Education programme, funding by Cambridge City Council.
Michael Rosen is a novelist, poet, broadcaster, performer and former Children's Laureate. He is the author of over 140 books, mostly humorous and mostly for children. 'Going on a Bear Hunt' has sold over 8 million copies!
He is Professor of Children's Literature at Goldsmiths College, University of London and holds many honorary degrees. In 2008 the French government presented him with the Chevalier de l'Ordre des Arts et des Lettres.
Michael campaigns widely and vigorously on issues of education and literacy and regularly takes the government to task on matters relating to schools and teaching in his 'Letter from a Curious Parent' in the education pages of the Guardian. He is the presenter of Radio 4's 'Word of Mouth', which examines the English language and the way it is used, and there are more than one hundred of Michael's 'Word of Mouth' programmes from the last few years freely available on BBC Sounds.
Michael has also made an audio collection of poetry about his family killed at Auschwitz and poems to resist racism and prejudice, produced by HistoryWorks as an album which you can freely access here:
https://audioboom.com/playlists/4613930-michael-rosen-poems-hmd
We are fundraising to support the plight of refugees today so please donate generously to the Cambridge Refugee Hardship Fund
The Cambridge Refugee Hardship Fund helps recently settled refugees to Cambridge and during the pandemic is also supporting a growing number of destitute asylum seekers.
Donate through FACEBOOK because we are aiming to achieve our goal of £1K at this event, so please give generously via:
https://www.facebook.com/donate/328734635776274/
Donate via TEXT to 70560 (standard network fees for texts apply)
Text REFUGEE (£amount you want to donate) to the number 70560
eg REFUGEE5 (if you want to donate £5)
eg REFUGEE10 (if you want to donate £10)
eg REFUGEE20 (if you want to donate £20)
CECF CAMBRIDGE ETHNIC COMMUNITY FORUM REFUGEE HARDSHIP FUND
Donate by CHEQUE to the address below and make out your donation to:
Cambridge Ethnic Community Forum and mail to 16 Arbury Road, Cambridge, CB4 2JQ
Donations can also be made by bank transfer directly to:
CECF Lloyds Bank Acct 30-13-55 Acct number 02959873
And gift forms are available on request if you contact us via www.cecf.co.uk