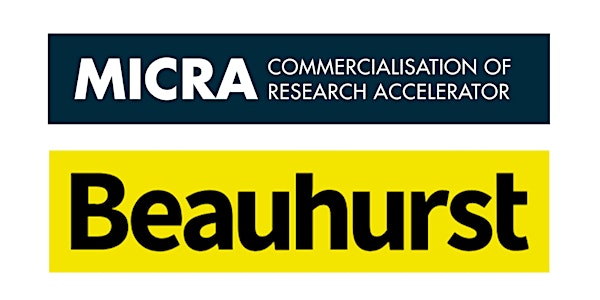 MICRA/Beauhurst Investment Opportunities in the Midlands Report Launch
Sales Have Ended
Registrations are closed
Thank you for registering for the launch of the MICRA/Beahurst Investment Opportunities in the Midlands Report Launch event on Thursday 12th May 09:30-10:45. The Zoom link for this event will be distributed prior to the event taking place.
MICRA and Beauhurst have produced a report showcasing the Midlands' myriad investment opportunities. Join us for the launch roundtable.
About this event
Investment Opportunities in the Midlands
There is something exciting happening in the investment landscape of the Midlands. Since 2011 its universities have spun-out 173 businesses and together they have raised 290 million pounds.
MICRA has commissioned Beauhurst to produce a report showing the sheer breadth and volume of investment opportunities in the Midlands. To launch the report we've brought together an expert panel of key leaders and experts from across the region to present and discuss its key findings.
Agenda
David Coleman (University of Birmingham Enterprise) Welcome
Prof. Trevor McMillan (Midlands Innovation & Keele University) How universities work with industry on the growth and place agendas
Henry Whorwood (Beauhurst) Key findings from the report
David Hardman (Bruntwood SciTech) The contribution of Science Parks to the regional innovation ecosystem
Alice Hu Wagner (British Business Bank) How the British Business Bank supports access to finance for commercialisation
Panel: David Coleman, Dr. Helen Turner, Prof. Trevor McMillan, Alice Hu Wagner, David Hardman
The event will take place virtually via Zoom. A link for the workshop will be circulated in good time prior to the event.
Presenter Biographies
Professor Trevor McMillan is the Vice Chancellor of Keele University and Chair of the Midlands Innovation Board. Before moving to Keele as Deputy Vice-Chancellor and Provost in January 2014, Professor McMillan was Pro Vice-Chancellor for Research at Lancaster University, where he led several major academic developments and was the lead for many partnerships with other universities and external organisations in the UK and abroad.
His early research was carried out at the Institute of Cancer Research/Royal Marsden Hospital and the Imperial Cancer Research Fund. A radiation biologist, Professor McMillan has published widely on the use of X-rays in radiotherapy and the harmful effects of long wavelength UV radiation in sunlight.
Currently, he has a national role as Knowledge Exchange Champion for Research England. As part of this Professor McMillan has recently published a report on technology transfer from universities, the recommendations of which have been supported by the government, in part through inclusion in the Industrial Strategy. He is also leading the development of the Knowledge Exchange Concordat with UUK/GuildHE and Research England.
Henry Whorwood is Head of Research & Consultancy for Beauhurst. Henry leads their Consultancy team, delivering research projects and reports for clients including the British Business Bank, Innovate UK and EY. He is an in-demand speaker on the high-growth landscape.
David Hardman MBE is Managing Director of Bruntwood Scitech - Birmingham. His career over the last twenty-five years has been in knowledge transfer; working at the interface between applied research and commercial application and exploitation. His expertise and interests are directed at creating appropriate partnerships and infrastructures to promote the development and success of cross sectorial knowledge-based businesses. He moved to Birmingham in 2008 to develop and implement a new strategy to build on the legacy of Aston Science Park. The result is the Innovation Birmingham Campus; an urban focal point promoting digital innovation and adoption across all sectors. In 2018 the Campus became part of Bruntwood SciTech to create a focal point for a thriving innovation district in Birmingham.
Alice Hu Wagner leads Strategy, Economics and Business Development at the British Business Bank. She is responsible for the overall strategy of the British Business Bank, all economic forecasting and analysis, as well as leadership on business/product development and innovation.
Alice joined the British Business Bank in April 2015 from Barclays plc, where she was the senior lead director for Group Strategy. Prior to spending 5 years at Barclays and Barclaycard, she worked in London for Lloyds Banking Group and Prophet, a strategic marketing and brand consultancy. She began her career at McKinsey and Company, latterly specialising in corporate finance and strategy.
Alice earned her undergraduate degrees from the University of Texas at Austin and her MBA from INSEAD.
Dr Helen Turner is a materials scientist. The majority of her career has been spent developing and managing collaborations within a university setting both between universities and between universities and industry. Helen moved to the Midlands in 2008 to manage the Midlands Energy Consortium, whilst there, Helen played a critical role in the successful proposal for £60m to establish the Energy Research Accelerator. Now four years into a five year programme the Energy Research Accelerator has secured £120m in co-investment and created 23 new research assets.
In 2015 Helen took up the role of Director of Midlands Innovation; a partnership of the eight Midlands research intensive universities, which represents over 70% of the university based R&D in the region. Helen is the Co-Chair of the Midlands Engine Operations. In this context Helen helped to secure the Midlands Engine Science and Innovation Audit.
Who should attend ?
Anyone wanting to learn more about the innovation ecosystem in the Midlands, and the investment opportunities it is generating; VCs, financial consultants, think tanks, government bodies, LEPs, universities and knowledge exchange partners.